CANPACK Group is looking forward to an exciting new period in its company history, as the company is relocating its corporate headquarters to a brand-new address.
Based in Krakow, Poland, the new offices are located in a state-of-the-art MK29 complex in the heart of the city, overlooking the Wawel Royal Castle and the Vistula Boulevards. Designed by TRZOP ARCHITEKCI, one of the most prestigious design studios in Poland, the concept has been inspired by CANPACK's strong brand and company's vision for the future.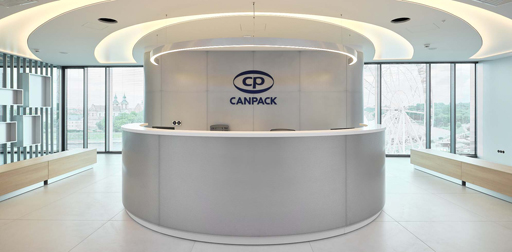 The new corporate offices encourages cooperation and integration, encompassing new technology and befitting CANPACK's culture. There's space for formal and informal meetings, breakout areas for 'brainstorming', and co-working space to reflect the company's commitment to innovation and embracing the new model of hybrid working.
"To create an impact, our new offices have been designed to foster increased knowledge, cooperation, and creativity," saidf Roberto Villaquirán, CANPACK Group CEO. "A crucial element of the project was the involvement of CANPACK employees throughout all stages. From identifying the new office and the required space, to outlining the hybrid working model and designing and delivering it, employees were consulted throughout."