Dutch Barn Orchard Vodka is the first new product to be launched by Ellers Farm Distillery near York, England. Sustainability is at the heart of this new distillery, which is why Ellers Farm chose Beatson Clark to create the bottle for its new vodka.
The distillery wanted high recycled content in its bottles to cut down on the use of raw materials, and amber glass is known to offer protection to the contents. Beatson Clark's amber glass is made of over 60 percent recycled materials.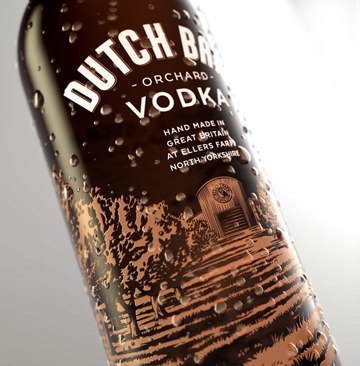 "Some spirits companies import their bottles from China as it can be cheaper, but one of our key tenets is to have a low and positive environmental impact wherever we can, so we're sourcing locally to reduce emissions from transportation," said Tabatha Hurst, Head of Sustainability at Ellers Farm Distillery.
"Beatson Clark came up in a search and they're a great business to work with – a Yorkshire business too! We knew they could provide a bottle with high recycled content, and the fact it's in amber glass means that the flavour of the vodka is as close as possible to the flavour the moment it comes out of the still.
"We also decided to print directly onto the bottle rather than create a separate label, in order to minimise our overall use of packaging materials. The printing uses plant-based inks that will burn off when the glass is recycled."
The bespoke 700 ml bottle itself has an unusual appearance, as it's made from amber glass and has a wider than usual neck.
The printed design applied by Yorkshire Bottle Solutions features a semi-metallic matt copper background showing the orchard and the Dutch barn with text in white, and the distillery's owl logo is embossed on the base.
Jonathan Clark, Account Manager at Beatson Clark, said, "It was a pleasure to welcome the team from Ellers Farm to watch the first bottles coming off the production line.
"Beatson Clark and Ellers Farm are a perfect fit. We've been able to create a beautiful bespoke bottle which really lifts their product, and at the same time we've met the customer's exacting sustainability requirements.
"It's been fantastic to collaborate on this project and we're looking forward to working with other niche spirits brands this year."