A good reputation is one of the most important qualities of an entrepreneur. It is thanks to its good reputation that AKMA is the only Russian company that, established immediately after the fall of the Wall, has grown and developed while maintaining the same structure and ownership.
Alexey Kinder sums up his entrepreneurial philosophy, with a still but smiling gaze. The gaze of those men who have faced great difficulties, have overcome them and have treasured the experience. We are in St. Petersburg, and we have just visited the headquarters of AKMA, the company founded by Mr. Kinder in 1991, of which he is the owner and manager. 30,000 m² of production area employing a thousand workers and divided into 10 warehouses, where over 50,000 m² of double glazing and 50,000 m² of other types of glass panes (tempered, laminated, etc.) are processed every month. An impressive structure which deals with all types of processing: grinding, drilling, milling, chamfering, coating removal, all types of screen and digital printing, flat and curved tempering, lamination and production of residential, commercial and facade double glazing.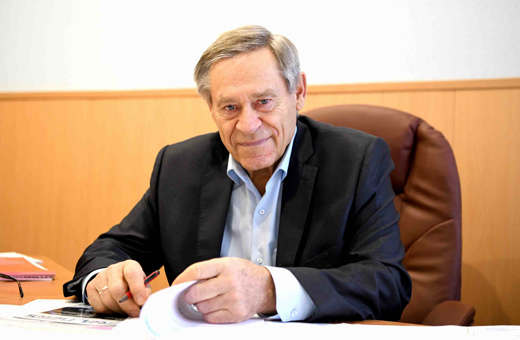 AKMA's production covers a wide range of functions: double glazing for residential, commercial and facade use (a sector in which the company wants to specialize further in the future), for the transport sector (ships, trains – AKMA has just received an order from RJDE to supply the windows for 300 trains) and glass for interiors, safety and artistic installations. In its portfolio there are also some special projects of the highest level, such as the Irina Viner Gymnastics centre, the Afimall shopping centre, the buildings of Huamin Park (Moscow), which show the indisputable talent of AKMA in the architectural glass sector.
"Today we have two Forel vertical glass processing lines, we have already ordered a third one and we are assessing other machines…" said Mr. Kinder "After installing the first line, we immediately noticed a superior processing quality and an increase in productivity. Forel machines determined a clear upgrade for our business: they allow us a higher productivity and at the same time an excellent processing quality. In addition, in Forel, we found a different brand compared to all other manufacturers: in addition to offering cutting-edge technology, Forel is a supplier which is capable of listening. For a group like AKMA this is fundamental, not only to manage today's needs but, above all, to plan our future together. And looking to the future I foresee an increasingly demanding market: we must be able to offer increasingly higher quality and to invest in qualifying personnel and in the technologies to be used. These are the challenges that AKMA will face in the future, with the firm intention of winning."