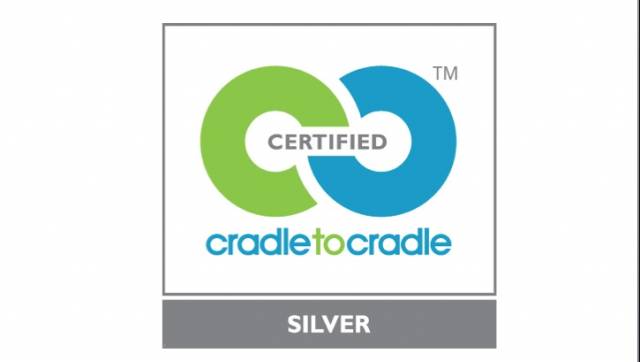 Since 2010, seven AGC Glass Europe product ranges have been awarded Cradle to Cradle certification: float glass, magnetron-coated glass, glossy painted glass, matt painted glass, acid-etched glass, mirrors and laminated glass.
These certifications were recently renewed for two years under the new, more stringent version 3.1 of Cradle to Cradle.
Cradle to Cradle is a programme that aims to evaluate a product's overall sustainability across its entire life cycle. To obtain certification, the product must meet stringent standards in five categories pertaining to health and environmental protection: Material Health, Material Reutilisation, Renewable Energy & Carbon Management, Water Stewardship and Social Fairness.
In 2010 AGC became the first European glassmaker to obtain Cradle to Cradle CertifiedTM(1) Silver certification for its float glass and magnetron-coated glass. In 2012, the company was awarded Cradle to Cradle Silver certification for its main decorative glass ranges, followed in late 2013 by laminated glass (also Silver certification).
Certification under the new, more stringent version 3.1
Version 3.1 incorporates a number of changes, the first of which is structural: a Bronze level has been added. Basic, Bronze, Silver, Gold and Platinum are now the five certification levels available. Some fundamental changes have also been made in each of the five categories, with existing criteria toughened and new criteria added.
These higher standards prompted AGC to intensify its efforts at all levels, especially for float glass, where major investments have been made in the Renewable Energy & Carbon Management category. Matteo Kausch, Director of Technical Development, Cradle to Cradle Products Innovation Institute, said "I would like to congratulate AGC on recertifying AGC Float Glass at the Silver level under version 3. I know this was a long and challenging process, but it also represents a significant accomplishment. No other product with such an energy-intensive manufacturing process has managed to achieve this so far (…)."  This means that AGC is retaining its Silver level for float glass, just as it is for magnetron-coated glass.
Laminated and decorative glass(2) have moved from Silver to Bronze. It was the tougher criteria in the Material Health category that had the main impact on this result.
With Cradle to Cradle 3.1 certification, AGC confirms its commitment to continually improving the environmental performance of its products.
(1) Cradle to Cradle CertifiedTM is a certification mark licensed by the Cradle to Cradle Products Innovation Institute.
(2) Painted glass products which are glossy (Labobel and Lacobel T), matt (Matelac and Matelac T) and acid-etched (Matelux), as well as mirrors (Mirox).