SGD Pharma announced that its 20ml EasyLyo moulded glass Type I vials are now available Ready-to-Use (RTU) in SG EZ-fill® Nest & Tub – an industry-recognized state-of-the-art secondary packaging format.
Increased demand for parenteral drugs generated by the Covid-19 pandemic has resulted in additional pressures being placed on biopharmaceutical companies to accelerate their time-to-market. This new RTU primary and secondary packaging combination from SGD Pharma offers biopharmaceutical producers the flexibility they need to deliver innovative medicines to patients significantly faster.
SGD Pharma was the first moulded glass manufacturer to offer RTU vials at an industrial scale for injectable drugs in 2019, and its partnership with Stevanato Group has enabled the company to be the first to market with 20ml EasyLyo moulded glass Type I vials in EZ-fill® Nest & Tub. RTU Type I moulded glass vials are delivered pre-sterilized in Nest & Tubs ready for automated fill and finish, skipping up-front washing and depyrogenation steps in an aseptic environment and allowing pharma companies to focus on core business activities to expedite product launches.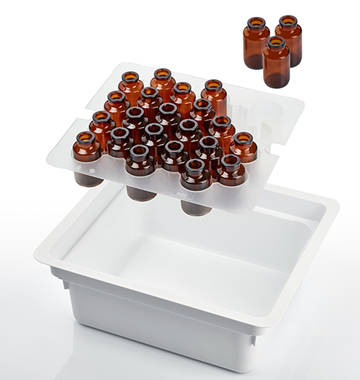 Nest & Tub is a secondary packaging solution required for combi-lines used for fill and finish. It is largely adopted by contract manufacturing organizations (CMOs) and contract development manufacturing organizations (CDMOs) for processing a variety of primary packaging containers including vials, syringes, and cartridges for optimal manufacturing flexibility. The Nest & Tub solution avoids glass-to-glass contact, protecting the sterility and the integrity of each vial. With the introduction of SGD Pharma's RTU moulded glass packaging solution in EZ-fill® Nest & Tub, drug manufacturers can accelerate their time-to-market for small to medium batches with minimal filling line changes.
SGD Pharma identified 20ml EasyLyo moulded glass Type I vials, part of the Sterinity platform, as a priority for development in Nest & Tub packaging due to the specific needs of biopharmaceutical companies to protect the safety of lyophilized drugs. EasyLyo's optimized heel radius reduces the risk of costly breakages in the freeze-drier and by removing the vials' base mould marks, manufacturers can achieve uniform cakes through maximized heat transfer. The uniform wall thickness of EasyLyo vials improves their cosmetic appearance, providing better inspectability compared with standard moulded glass.
Alexander Bautista, Product Manager Sterinity Platform, said, "Our new 20ml EasyLyo molded glass Type I RTU vial in Nest & Tub is an optimal packaging option for biologics and innovative treatments that require glass vials with large volumes for parenteral use. The chemical and mechanical resistance of our Type I moulded glass vials ensure reduced risk of delamination and breakages; in particular for drugs manufactured via lyophilization. This meets the needs of innovative drug manufacturers through all the stages of drug development, especially the early phases and the transition from clinical to commercial."
With the same external dimension as 20R tubular vials, adopting 20ml EasyLyo moulded glass Type I vials will only require minor changes on the filling line and allow the same freeze-drier shelf configuration. This makes it simple for drug manufacturers to adopt a multi-source approach or add moulded glass vials to their primary packaging portfolio. Customers looking to add Type I moulded glass vials as an alternative packaging solution are advised to start stability testing to ensure supply chain continuity in the event of shortages.
Moulded glass represents approximately 40 percent of the injectable vials market: its higher mechanical resistance reduces the risk of breakages during fill/finish and harsh processing conditions such as lyophilization, safeguarding valuable drug products and sensitive molecules, such as oncology therapies. Improved chemical performance minimizes extractables and particle contamination to meet United States Pharmacopoeia (USP) <660> and USP <1660> guidelines.
The new 20ml EasyLyo moulded Type I glass vials in Nest & Tub are in stock and available in both flint and amber glass. The Letter of Authorization (LOA) to the Drug Master Files (DMF) for our Ready-To-Use moulded glass vials, pre-sterilized in the EZ-fill® platform of SG Ompi, will be available from early July.
For more information about RTU moulded glass vials from SGD Pharma, please watch the webinar on-demand here or download the white paper here.