The challenge
Vitro Architectural Glass, as a leading supplier in the industry, is known for providing high quality architectural coated glass. To reliably ensure maximum quality consistency across all of its manufacturing locations the North-America based glass giant decided to take their inspection of Magnetron coated glass sheets to the next level: using the fully automated P2-Coating and P2-Color system, the company guarantees virtually perfect glass surfaces – for products free of debris, scratches, coating inhomogeneities and many more defects in low emissivity coatings.
The solution
P2-Coating is the fully automated inspection solution for coated glass. Inspecting in-process and down to the μm range, it enables the successful recognition of coating defects such as pinholes and arcing-defects, as well as edge defects like shells, and low contrast inhomogeneities. Employing multiple cameras and light sources on both sides of the glass, P2-Coating identifies defects on the glass surface far more precisely and efficiently than any other inspection methods can.

PowerPlate systems at Vitro Architectural Glass
According to Joe Koepfinger, Senior Staff Engineer at Vitro, installing ISRA's P2-Coating systems meant solving several problems with a single solution: while product quality became more consistent, waste production was also successfully reduced. Beyond that, by delivering detailed information on defects, ISRA's inspection systems allow for direct insights into process quality. The results were optimized processing, reduced operating costs and increased profitability. Using special high-end cameras, and progressive frame grabber, and high power white light illumination, combined with sophisticated detection and evaluation software, the PowerPlate systems enable high quality product control and throughput.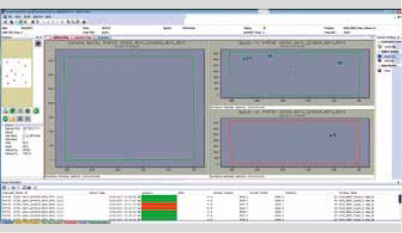 Summary
A valued customer for many years, Vitro has reaffirmed ISRA's best-in-class technology and reliable support from their own experience.
The P2-combination of multi-view, multi-mode, and multi-spectral technology ensures supe-rior inspection results. "The ISRA Vision team has always been very supportive during installation, system configuration, and in addressing any problems," added Koepfinger. Consequently, the company once more turned to the global leader in machine vision to install PowerPlate systems on four Vitro coating lines.