The site of United Nations World Geospatial Information Congress in Deqing (Zhejiang Province, China) and the quiet lake all blend into one harmonious whole, designed to "hit the clouds and came the dawn, phoenix dance in the Ninth Heaven", like a white auspicious cloud, dim but translucent, lying in the Fengqi Lake. The three-dimensional metal hollow roof on Quyuan Road is like a "flying phoenix", full of poetry. Overlooking the whole building, the tranquillity of "cloud" and the "phoenix" flying in the sky form a sharp contrast and is full of drama.

NorthGlass has undertaken the processing project, the site of the United Nations World Geospatial Information Congress in Deqing. It was a dramatic process, and during the course of the project, the designers encountered some seemingly unsolvable technical problems: how should the pipes be set up to achieve a smooth and streamlined spherical design? They first thought of the National Center for the Performing Arts, because the two projects are very similar. Therefore, the designer came to the National Center for the Performing Arts to conduct an in-depth investigation. Fixed points were made through the spatial model, and according to the three-point one-side principle, they were decomposed into triangles for splicing, which created the current smooth streamline shape. Here, the designer was also able to see the glass of NorthGlass more intuitively, and the intention of cooperation is carried out on this point.

NorthGlass Shanghai Glass Company, supplied the project with more than 7,000 square meters of 3 layers of ultra-white SGP laminated and insulated glass as well as positive-curved and reverse-curved glass with high technical difficulty, which were delivered to the construction company two months later. Precise processing and high-difficulty node technology make the whole building presents a smooth and and rounded streamline. The curved glass makes the interior more transparent, the light penetrates into the interior through the surface layer, and the light and shadow are mottled, looks fabulously magnificent and delicate, presenting the indoor effect of "dream light and shadow".

As the site of the High Level Forum on United Nations Global Geospatial Information Management, the global wisdom of geographic information industry will converge and collide here, Post-era of World Geographic Information Congress, innovation elements and technological elements will be merged here. NorthGlass with their own "ingenuity" spirit, make every "dream" into reality.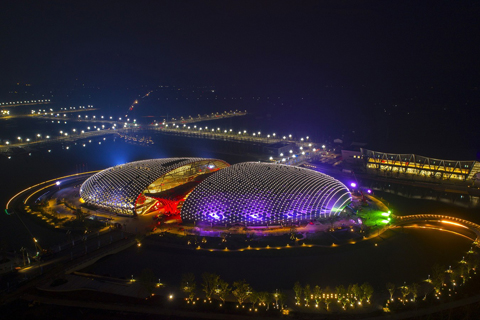 www.northglass.global