On June 20, over 20 academicians and experts with the "2019 Empowering the High Quality Development of Private Sector with Science and Technology – Academicians' Luoyang Tour" ("2019 Academicians' Luoyang Tour") visited LandGlass to conduct an on-site research. Zhao Yan, the Chairman of the Board of LandGlass, Deputy General Manager Li Yanbing, and the Chairman of the LandVac Business Development Zhu Leibo received Wen Bangchun, Song Zhenqi, Yao Jianquan, and other academicians and experts. They introduced to the visiting academicians and experts the basic information of the company as well as the R&D history of LandVac, and demonstrated the world's first horizontal intelligent vacuum insulated glass continuous production line.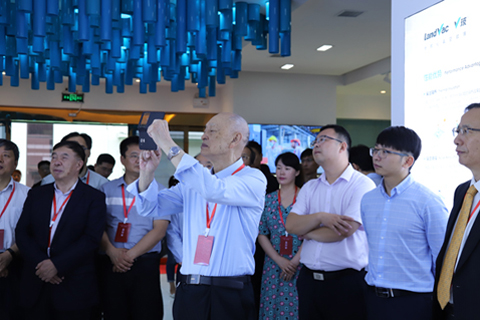 The "2019 Academicians' Luoyang Tour" is an event co-organized by the First Bureau of Chinese Academy of Engineering, Bureau of Science & Technology for Development of Chinese Academy of Sciences, Henan Provincial Science and Technology Department, and Luoyang Municipal Government, focusing on the new materials and advanced equipment manufacturing sectors around the theme of "Empowering the High Quality Development of Private Sector with Science and Technology".
The event is an initiative to allow Luoyang to give full play to its own advantages, implement the national strategic support, and accelerate the innovation-driven development. It will help to further deepen the academy-locality cooperation, solve bottleneck problems in industrial core innovation technologies in Luoyang, fulfil innovation needs for major technologies (projects) of private enterprises, and promote industry transformation and quality development of private sector.

At LandGlass' vacuum insulated glass and machinery manufacturing base, the academicians acquired straight perception on the performance advantage of LandVac in ultra sound insulation and thermal insulation through Deputy GM Li Yanbing's explanation and gave positive affirmation to the innovation in LandVac production line and processes. The academician of Chinese Academy of Sciences Song Zhenqi took pictures repeatedly in front of the thermal insulation demo display and promised that he would be more than happy to promote such a great product.
As a successful product of vacuum insulated glass, LandVac has passed the SGCC safety test, lead-free test, certification of recommended products for passive houses, energy-saving product certification, green product certification, and other authoritative approval.  It has received enthusiastic market response with a large number of purchase orders pouring in from SCHOTT in Europe, Velux, Phononics in the United States, Country Garden, Beijing Institute of Architectural Design and many other domestic and international customers.
Furthermore, LandGlass has established a world-class vacuum insulated glass laboratory equipped with more than 100 sets of R&D instruments and testing devices of various types worth over 40 million CNY. In the meantime, it collaborates with Henan Engineering Laboratory for Ecological Architecture and Environmental Construction, the National Specialized Laboratory for Acoustic Engineering and Testing Technology, and other renowned laboratories to provide technical support to the future development, performance and process improvement of vacuum insulated glass and its derivative products.
Currently, by adopting intelligent continuous production approach and lean production control, the production capacity per unit time of the automated tempered vacuum insulated glass production line with fully independent intellectual property rights is more than ten times of the traditional vacuum glass production line, fully ensuring the high quality and output of LandVac. The academicians and experts highly praised LandGlass' achievements in the tempered vacuum insulated glass field. Academician Song Zhenqi said, "Many of the products here contain proprietary technologies and are high value added products.  China's high-quality economic development can not be separated from the achievements of private enterprises. The private enterprises should adhere to innovation and opening to the outside world. Only by doing so, the path of high-quality development can lead us to a prosperous future."
In the coming years, LandGlass will continue to expand the production scale, develop optimized production processes and equipment, upgrade digital and intelligent manufacturing, and build vacuum insulated glass manufacturing bases nationwide. By transforming the technological advantages of LandVac into the advantages of product, market and standard, we aim to produce the No. 1 brand of vacuum insulated glass in the world, achieve the high quality development, and make our contribution to the local economic development.