The 31st China International Glass Industrial Technical Exhibition (China Glass 2021), organized by the Chinese Ceramic Society and undertaken by Beijing Zhonggui Exhibition Co., Ltd., will definitely be held at Shanghai New International Expo Centre from May 6 to 9, 2021.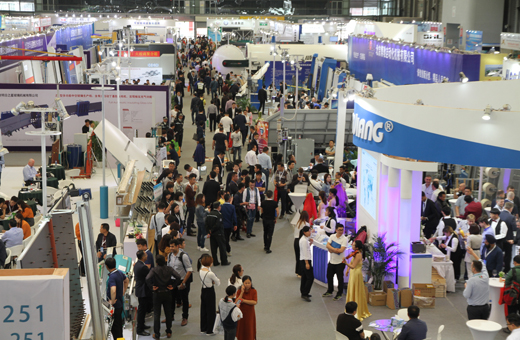 In January this year, at a time when the critical period for preparation of China Glass 2020 was underway, a widespread pandemic took place and every business event, including the glass industry's, had to be suspended because of COVID-19. The 31st China Glass Exhibition as a flagship exhibition in global glass industry was postponed in order to ensure the health and security of exhibitors and visitors. as well as the exhibition effects and economic benefits of the numerous exhibitors. Through multi-party communication and active coordination, the 31st China Glass Exhibition was postponed to May.
The current situation of the epidemic prevention and control in China is gradually getting better. Furthermore, the enterprise assistance policies that were continuously released in all parts of China have also brought multiple benefits to the glass industry's recovery. As one of the most influential professional events in the global glass industry, China Glass Exhibition will rely on its platform advantages and dedicate a fruitful trade and technology exchange gathering for the Asia Pacific and global glass industries.
The exhibition space has been adjusted to hall N1- N5, W4, W5 and two outdoor halls at the Shanghai New International Expo Centre. The international exhibiting area is allocated in hall N1, glass production exhibiting is allocated in hall N2, tempering furnace and refractory exhibiting is allocated in hall N3 and deep-processing equipment exhibiting area is allocated in hall N4, N5 and W5. Additionally, hall W4 and two outdoor halls are allocated to display raw materials, main and auxiliary materials, domestic glass and art glass. The overall display scale of the exhibition will exceed 90,000 square metres.
At present, preparation work for the exhibition has been initiated on all aspects, and the organizer is carrying out the second confirmation of booths with the signed exhibitors. Many manufacturers at home and abroad intend to participate in the exhibition with undiminished enthusiasm despite the postponement.
So far, there have been more than 700 exhibitors confirming their booth and signing new contracts. To many exhibitors, China Glass Exhibition is an important marketing activity to increase sales, and say it should not be missed. A large number of equipment manufacturers in the field of glass deep-processing have also requested to expand the scale of their booth areas. The rebounding of the overseas epidemic is not hurting the enthusiasm of most international enterprises to participate in the exhibition.
Exhibitors from overseas say that as the overseas epidemic has gradually stabilized and the progress of research and development of COVID-19 vaccines is accelerating, the economic and trade exchanges will return to normal. In this healthier environment, the China Glass Exhibition can be the most influential exhibition platform in the glass industry for the Asia-Pacific region, and an indispensable platform for international enterprises who intend to access to the Asia-Pacific market.
Under the guidelines of epidemic prevention and control, there have been many well-known domestic glass manufacturers to sign new contracts and participate actively in the exhibition, for instance, China Building Materials Academy, Triumph Group,CTIEC,Qinhuangdao Glass Industry Research &Design Institute, China New Building Materials Design & Research Institute, Bengbu Glass Industry Research &Design Institute, NorthGlass, Luoyang Float Glass Group, China Yaohua, Hua Guang Group, TAIWANGLASS, Xinyi Glass, Landglass, Mountain Glass, Jinjing Group, CSG Holding, Shanghai SYP Glass, Kibing Group, Hubei Yijun Yaoneng New Material, Hebei Yingxin, Wuhan University of Technology, Anhui Jingling, Jinan Weili,Beijing BOZA, Zibo GT Industrial Ceramics, Shahe Glass Group, Shahe Glass Research Institute, Flat Glass Group, HIHO Glass, Mr. Glass, Sinoma Advanced Materials, China Glass Holdings, Shanxi Lihu, Ruitai Materials Technology, Qinhuangdao Yuntong glass, Liaoning North Glass,Guangdong Fushan Glass, EI Automation Equipment, South Glass Technology, Hangzhou Zhijiang Silicone Chemicals, GOLIVE, Tenon(Beijing), Beijing MGM Glass, Hangzhou Jinglass, Yinrui Intelligent Technology, Chengdu Guibao, ZIBO ASAHI, Dardi Water Cutter, Shandong Sanjin Glass, Chengde Huafu Glass, Weifang Sanjiang Glass, Huayang Glass, Guilin Champion Union, Yuandong Refractory, Xinfuxing Glass, Chaoyang Glass Machinery, Deway Glass machine, Fangding Safety Glass,Beijing Hanjiang Automatic Glass Machinery, Beijing Glorious Future Glass, etc.
Mainstream international glass industry manufacturers have also confirmed to participate in the China Glass Exhibition, including: LiSEC, Glaston, Kuraray, Intermac, Von Ardenne, Henry F. Teichmann, Sefpro, Zippe, Carl Zeiss, AGC, Koemmerling, Honeywell, Dip-Tech, TECO, RHI, Fives, Grenzebach, Vesuvius, MSK, ISRA Vision, Air Liquide, Precision, as well as many others.
Once again, this not only highlights the degree of internationalization of China Glass Exhibition, but also indicates that the overseas manufacturers pay close attention to the China and Asia-Pacific glass markets represented by the exhibition.
The China Glass Exhibition has strong support among foreign government and industry organizations, for example: ITA-Italian Trade Agent, ICE– Italian Trade Commission, GIMAV-Italian Association of Manufacturers and suppliers of Machinery, Equipment and Special Products for Glass Processing, German Federal Ministry for Economic Affairs and Energy, VDMA and the German Engineering Federation. China Glass Exhibition will continue to cooperate with them to set up German and Italian national pavilions at Hall N1.
At present, the glass industry is in a stage of transformation, upgrading and high-quality development. The glass enterprises have faced multiple challenges due to the impact of the epidemic, and these trying times have made many enterprises more eager to maintain business relationships with users and open up new markets with an authoritative industry exhibition platform. The exhibition also is an all-facet platform to bring new opportunities for closer collaboration and shared development among global glass industries.
The Chinese Ceramic Society, as the organizers of he China Glass Exhibition, are making steady advancements on exhibition promotion, booth arrangement, exhibitor promotion, concurrent exhibition activities, audience organization and other aspects in order to dedicate a grand event on productive trade and technology exchange for all the glass industries in the world.