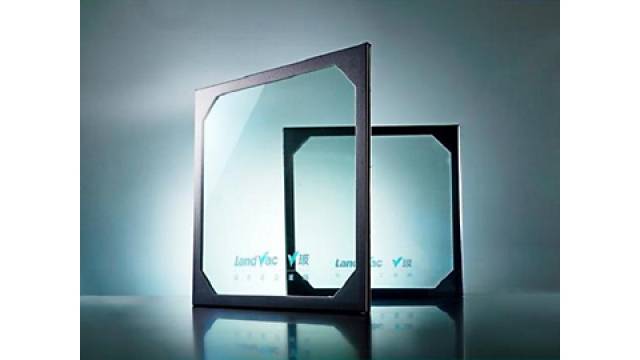 The company will be showcasing Tempered Vacuum Insulated Glass in New York this month.
VIG Technologies, in partnership with Landglass, is rolling out an industry changing new product, Tempered Vacuum Insulated Glass, at AIA in New York City, which runs from June 21 and 22.
VIG Technologies, LLC proudly serves as the exclusive North American distributor for the LandVac® division of Luoyang Landglass Technologies Co., Ltd.  During AIA, at booth #4610 of the Javits Convention Center, this technology will be on display.
The VIG Technologies LandVac VIG has outstanding performance in thermal and sound insulation while retaining the strength and safety of the glass.
LandVac has a high vacuum chamber that eliminates any gas heat transfer. By using high-performance Low-E coating, it also considerably suppresses radiation heat transfer and reduces the U-value of LandVac to 0.55W/(m²*k).
The thermal insulation performance of LandVac is 2 to 4 times better than insulated glass and 6 to 10 times than single pane glass. Using LandVac alone will meet all international passive houses heat transfer requirements on windows and doors.
At the same U-Value, in comparison with triple-pane insulated glass, LandVac weighs less and is much thinner. Less Low-E glass panes promises higher transmittance and improved optical transparency.
With the adoption of flexible metal edge seals, LandVac has much higher resistance against thermal expansion or contraction caused by the temperature difference between inner and outer surfaces, free from concerns over seal failure due the organic sealing materials ageing.
Moreover, the high vacuum chamber provides better protection to off line Low-E coating. With the assistance of built-in high efficiency getter material, LandVac can sustain its superior performance against harsh environments and material aging.
Thanks to the high vacuum chamber, there will be no expansion or contraction even if the elevation of the location where it's used is largely different from where it's manufactured. The heat transfer coefficient remains constant regardless of whether it's mounted horizontally or at an angle, making it suitable for installation at any position around the building.
The high vacuum chamber also effectively blocks sound transmission with a weighted sound isolation from 39dB to 43dB, generating a remarkable soundproof effect against mid and low frequency noises such as traffic noises that disturb our daily lives the most.
For more information visit: https://www.vigtechnologies.com.