Turkey is one of the top global producers of glass with its high production capacity, superior quality and experience, and exports to 170 countries.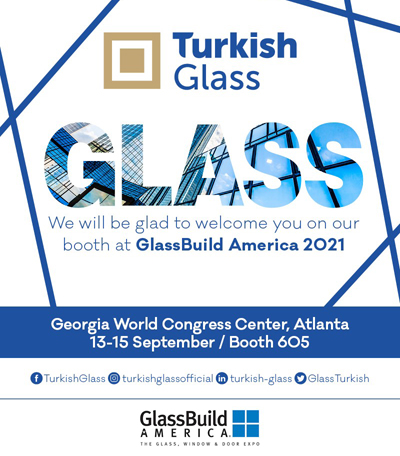 TurkishGlass is the association representing glass manufacturers, glass processors and glass exporters in Turkey. The main product groups in TurkishGlass are "flat glass", "glassware" and "glass packaging". TurkishGlass combines high production capacity with high quality and a wide product range.
The main aim of TurkishGlass is to add value to environment and human life while shaping the future with its wide range of products and services that make life easier.
TurkishGlass invites to visit the booth #605 at GlassBuild America 2021.
TurkishGlass aims to meet with U.S. industry professionals such as architects, facade consultants, façade engineers, structural consultants, and related construction disciplines and inform them about the Turkish glass industry's prestigious projects all over the world. TurkishGlass' wide product range enhance the capabilities of construction projects in the U.S.
TurkishGlass is excited to exhibit its wide range of products and share information about prestigious projects at GlassBuild America 2021 in Atlanta, Georgia, USA, on September 13th-15th.