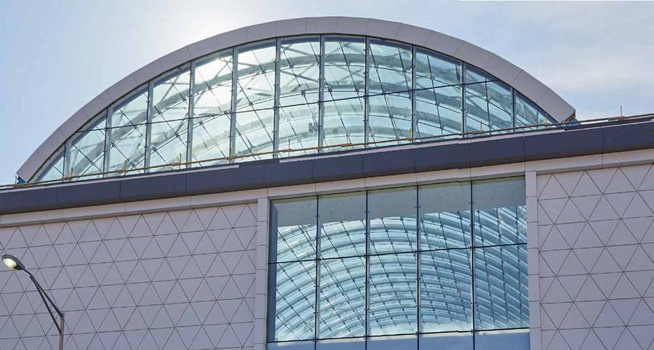 It has certainly been worth the wait, with the impressive 464,500 m2 structure housing both retail and entertainment/attractions/dining outlets − in a 45/55 percent split – along with a proposed plan to build North America's largest indoor water park.
The external façade of the building, owned by Canada based Triple Five Worldwide, has been completely revamped, replacing the locally badged "eyesore" used on an earlier guise, called Xanadu. Of particular note − and dominating a large section of the building's roofline − is the huge 30 x 73 metre barrel vault skylight, created using the Pilkington Planar™ system, with the glazing exploiting the functional and aesthetic capabilities of the SentryGlas® ionoplast interlayer from Trosifol™.
According to Chris Lalonde of W&W Glass, LLC, the exclusive North American distributor of the Pilkington Planar™ point supported glass system, "This area of the complex houses many of the leading high-end retailers. The owners and architects wanted it to appear as an open, expansive space that brought the outdoors inside, but kept the environment comfortable for visitors. Light transmittance and solar control are important and with the low-e coating on the glass and the SentryGlas® interlayer, the panels let in plenty of light… but not too much."
GH+A Design Studios, the project design firm for the complex, described it as "a new model, a multi-dimensional, multifaceted family destination. The high-level vision was taking the bones of a retail center and reimagining it."
According to Tony Pasqualino from Adamson Architects, the architect of record on the project, "The original design from GH+A called for a large open atrium, which let in a lot of daylight, in order to deliver an outdoor feel. We took its atrium design concept and developed it on our Architectural drawings in conjunction with McNamara Salvia, the Engineer of Record and designer of the skylight steel support structure.
"The initial design had an internal steel support structure underneath the glass, and mullions skylight system, but this was superseded by the existing design, which deploys the Pilkington Planar™ point-supported system outboard of the glass panels and suspended from 16 in diameter rolled steel arches. This second iteration results in a much cleaner appearance, with fewer obstructions − utilising 726 2.13 x 1.45 metre insulated laminated glass units − ultimately delivering greater transparency."