The latest member of the Tecglass family of printers takes the stage, bringing new digital printing solutions for architectural glass and frameless windows.
Unique, compact, versatile and multi-functional, the Vitro Jet MultiFlex was designed as the fast, accurate digital , using single-pass or multi-pass printing systems to reproduce all kinds of graphic patterns, lines, dots, logos and frames on architectural glass.
A marriage of performance and functionality, housed in a compact, accurate, easy-to-operate machine that combines the innovative Tecglass software interface and high-tech Side Kinetix and Fast Frame Printing Tool features in a single model.

Catering to market needs, Tecglass launches a highly competitive machine that, without sacrificing the distinctive features of its high-tech digital Tecglass solutions, delivers performance optimized for frame printing in a single pass, at high speed, thanks to its exclusive Fast Frame Printing Tool software, that allows the print head to always move along the perimeter of the glass for an accurate, precise print cycle. The new printer is configured to always allow simultaneous two-colour printing, and its rapid colour-change system provides the utmost flexibility when switching from one print job to another.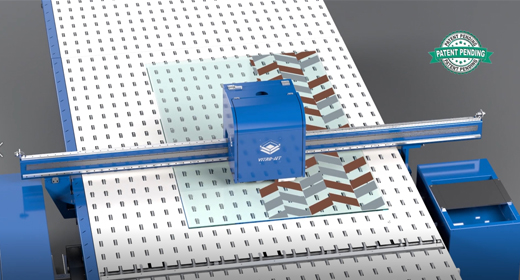 With exclusive Side Kinetix technology, the Vitro-Jet MultiFlex also delivers the optimal conditions for multi-pass printing of monochromatic or two-colour graphic motifs, even on irregularly shaped glass, while drastically cutting print times. Thanks to Side Kinetix technology, Tecglass can always guarantee printing along the long edge of the glass.
A perfectly balanced blend, Vitro-Jet MultiFlex was developed by combining latest-gen technologies in a single multi-use machine to optimize production processes. One machine capable of handling many different production challenges offers industry players a digital solution to glass customization and decoration.