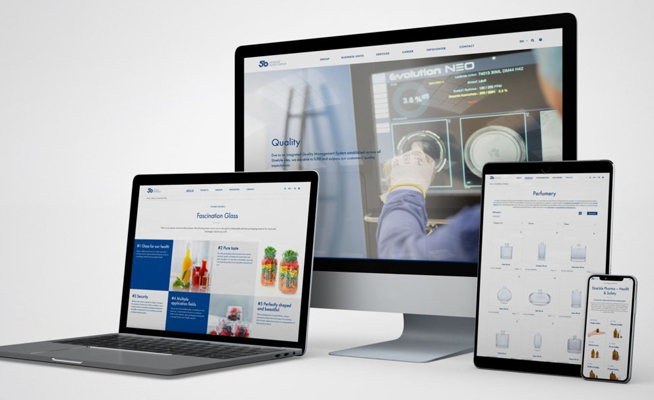 Stoelzle Glass Group announced that has re-worked their online presence and launched their new website, which is not only technically state-of-the-art but also utmost user-friendly.
Stoelzle Glass Group has been investing significantly in the field of digitalisation throughout the past years, not only in all their production and decoration processes, but also towards customer relation.
Priority was set on providing quick and comprehensive information and staying in touch best possible with international customers in such challenging times, where personal contact has been reduced to a minimum due to COVID-19. The new website is another milestone on Stoelzle's path towards digitalisation and industry 4.0, and a virtual B2B customer journey.
Focus has clearly been set on very fast page loading, an optimised responsive design, and detailed search options. In general, the comany strived to set up a page most suitable for access from home offices and via mobile devices.
"With this fast new website Stoelzle fulfils its role as a leading European Glass manufacturer and enables its customers to obtain detailed information about all four Business Units and the seven production sites with a few clicks, 24/7, from any device and location," said Stoelzle Glass Group's CEO Georg Feith.
The fancy new site is based upon a multisite system which includes dedicated categories for the Business Units Pharma, Perfumery & Cosmetics, Spirits and also Consumer food and beverages, and is basically available in English and German, partly also in French language. Separate plant sites have been set up in the native languages of the production plants (French, Czech, Polish, German and English). They provide detailed information about job opportunities in the various manufacturing sites and are mainly dedicated to employer branding.
As a great novel feature, the website includes a sophisticated product finder for all Business Units of the Group. All Stoelzle items are displayed either in a grid or in a list view, including product pictures. Visitors can apply filters such as product category, size, glass colour, and neck. Novelties are marked as NEW and will therefore be found at one glance. Products of choice can be marked and added to a specific wish lists; Offers can subsequently be requested directly via the website.
Click here to access our product finders
Along with the brand new website comes an updated Stoelzle Youtube Brand Channel, as well. It features many interesting videos about glass production, decoration and various topics of interest throughout all Stoelzle sites and Business Units.