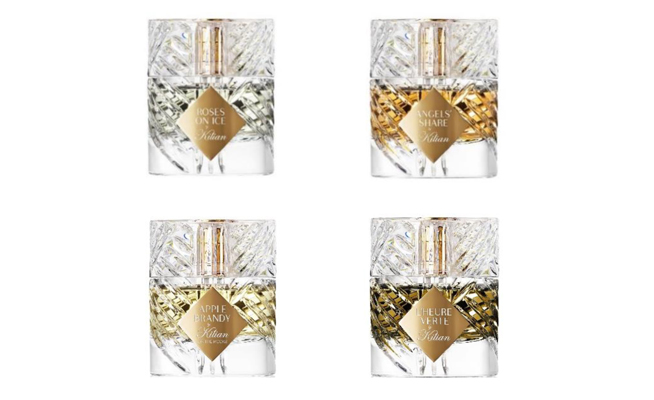 On November 18th, in occasion of the solemn CosmétiqueMag awards ceremony, the outstanding flacon of The Liquors perfumes by KILIAN PARIS was awarded bronze in the category Packaging Design Perfumes by a jury of international experts.
As a leading BTOB award for the past 30 years, the CosmétiqueMag Awards reward all the professions in the perfumery and cosmetics sector each year.
The French glass manufacturer Stoelzle Masnières Parfumerie, part of the Stoelzle Glass Group, is proud of gaining such a significant recognition of its expertise in design and technical execution of high-end perfume bottles. The distinctive flacon was evolved in close cooperation with KILIAN PARIS. The brand entrusted Stoelzle Masnières Parfumerie with the creation of outstanding, beautiful bottles, which are instantly addictive to the touch: stunning thick glass, engraved with the brand's emblematic K signature motif, reflecting light from every angle, and resembling cocktail glasses in Art Deco bars.
The complexity of the bottles' design required huge technical expertise from the Stoelzle team and a couple of challenges was successfully mastered:
the massive, sharply faceted body
the very small neck finish screw ring
the very regular distribution at the base and at the shoulder, despite the well-marked intaglio engravings
the creation of a very specific mould, requiring the removal from the mould in several parts
the perfect dimensional mastery to enable the plate to be well-positioned and perfectly bonded
A first collaboration between KILIAN PARIS and STOELZLE MASNIERES PARFUMERIE.
KILIAN PARIS classifies its fragrances into olfactory families. The Liquors one count four fragrances: Angels' Share inspired by Cognac, Roses on Ice inspired by Gin, Apple Brandy on the Rocks inspired by Brandy et L'Heure Verte inspired by Absinthe.