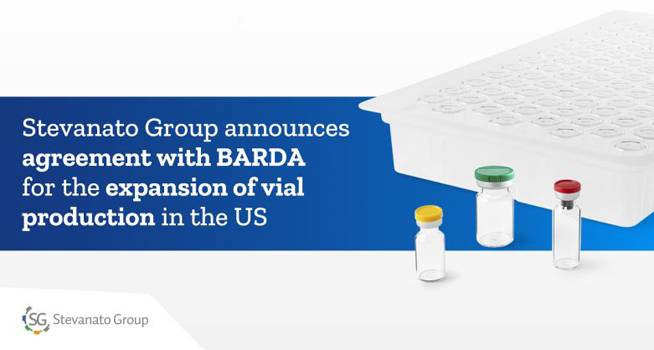 Stevanato Group, a global provider of drug containment, drug delivery and diagnostic solutions to the pharmaceutical, biotechnology and life sciences industries, announced that its subsidiary, OMPI of America Inc., entered into an agreement to support the Biomedical Advanced Research and Development Authority ("BARDA", part of the Office of the Assistant Secretary for Preparedness and Response at the U.S. Department of Health and Human Services through its partnership with the Department of Defense's Joint Program Executive Office for Chemical, Biological, Radiological and Nuclear Defense and Army Contracting Command) pursuant to which BARDA has agreed to provide up to approximately USD 95 million to Stevanato Group.
Under the agreement, Stevanato Group has agreed to expand its planned manufacturing capacity in Fishers, Indiana, for both standard and EZ-Fill® vials. BARDA's financing is intended to strengthen domestic capabilities in the U.S. for national defense readiness and preparedness programs for current and future public health emergencies. In addition, Stevanato Group has agreed to provide priority access to designated BARDA vaccine and drug development partners, when necessary.
Franco Moro, Chief Executive Officer of Stevanato Group, said, "We are honoured to have been selected by BARDA for this important investment which we believe will help fortify the U.S. pharmaceutical supply chain to meet the demands for current and future public health emergencies. We believe this investment will rapidly accelerate and scale Stevanato Group's capacity in Indiana and further expand our growth in this key strategic market."
Through the agreement with BARDA under the American Rescue Plan Act of 2021, Stevanato Group has agreed to expand its production capacity in Indiana for standard and EZ-Fill® vials to be utilized with BARDA and its affiliate partners' for current and future pandemic vaccines. Stevanato Group's patented EZ-Fill® platform offers increased flexibility, faster time to market, enhanced quality and lowers the total cost of ownership for customers.
Franco Stevanato, Executive Chairman of Stevanato Group, added, "This agreement confirms our strong reputation, the importance of our primary packaging solutions, and further confirms our strategic approach in the United States to invest and broaden our product offering. We stand ready to support the U.S. government in its efforts to combat public health emergencies and support the American people."