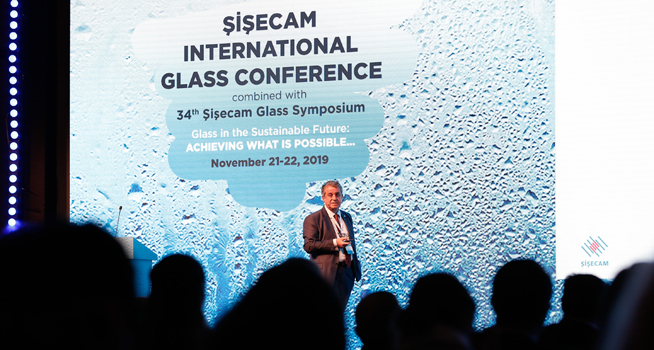 Şişecam Group, a global player in glass industry, organized the "Şişecam International Glass Conference" in Istanbul, Turkey on November 21-22, 2019, with the attendance of 500 participants from 26 countries.
The Conference, combined with the "34th Şişecam Glass Symposium", had the main theme of "Glass in the Sustainable Future: Achieving What is Possible…"
The international conference consisted of 10 thematic parallel sessions, 111 oral presentations, and 12 poster presentations, which attracted researchers and industry professionals from all around the world, and raised the perception on the central role of glass on sustainable future.
Şişecam Group Chief Research and Technological Development Officer Prof. Şener Oktik, in his opening speech as the Chairman of the conference, said, "Archeological findings suggest that the roots of glass industry are in Anatolia where we are together to discuss and exchange our knowledge, experiences, ideas and the progress in research and technological development results of glass science, technology in an attempt  to improve our understanding of a mystery of glass in many dimensions.
"Glass is actually neither a liquid nor a solid. It is an amorphous material somewhere between those two states and can flow very slowly and the molecules move to settle into a more stable, crystal-like formation over long periods. Unfortunately as in the journey of molecules in glass, 'a clock speed' of glass industry moves slowly. To improve the clock speed of the glass industry, all possible stakeholders, scientists, engineers, technology providers, and investors from universities, research institutions, suppliers and glass manufacturers at an international scale ought to communicate more strongly in open platforms to facilitate collaborations and co-creation at pre-commercial phases."
Şişecam Glass Symposiums have been growing steadily and strongly for the last 33 years, hosting the three joint meetings with the International Commission on Glass (ICG), the most reputable (not-for-profit) glass society comprising 33 national organizations in glass science and technology. The first joint of ICG Annual Meeting with Şişecam Glass Symposium in 1985 was the 50th anniversary of the Şişecam Group. The second was in 1996 and third one was a great success in conjunction with the 32nd Şişecam Glass Symposium in 2017. Following these developments, the Şişecam Group decided to establish a sustainable platform by organizing the "Istanbul International Glass Conference" every two years following the first one in 2019."
Prof. Oktik added, "We hope that this initiation would be serving glass industry from fundamentals of glass science and technology to every stage of glass production and the secondary processes starting from nearby geography to the ever-enlarging geographies covering the world and  getting stronger in width and depth in coming years by the help of all stakeholders."