Members of Executive and Advisory Committees of the International Commission on Glass (ICG) from 33 countries convened at Porto Nogaro flat glass production plant located in the north of Italy. Following a study visit to the production plant under the guidance of Professor Şener Oktik, Şişecam Group Chief Research and Technological Development Officer and Member of ICG's Executive Committee, and Mr. Beytullah Şahin, General Manager of Şişecam Flat Glass Italy SRL, "ICG 2030" strategies were discussed before noon during the meetings conducted at the plant. In the afternoon, the preparatory works for the ICG General Assembly to be held in Boston in June were completed.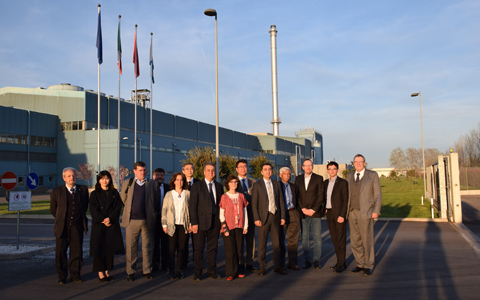 Şişecam Group is in the leading position in Italy
Operating in the chemicals, flat glass and household glassware fields in Italy, Şişecam Group takes the lead in these business lines. The investments made in this country greatly contribute to the leading position of Şişecam Group in Europe for the chromic acid production and in the world for basic chromium sulphate production as a result of total investments amounting to 120 million EUR in Italy.
Today, Cromital S.p.A. is in a leading position in Italy, which is the largest leather processing centre in Europe, thanks to its liquid and powdered basic chromium sulphate production and sales. Holding an efficient position in the Italian household glassware market, Şişecam Group has made important investments for its logistics and distribution network besides the Paşabahçe Store in Milano. The Group reaches the US, European, Middle-Eastern and African markets via Italy.
The Group's flat glass production capacity in the country doubled up following the commissioning of Manfredonia in 2018 besides the Porto Nogaro plant with an annual production capacity for 220 thousand tonnes of flat glass and 5 million square metres of laminated glass. The Manfredonia flat glass production plant has an annual production capacity of 190 thousand tonnes besides a laminating line with an annual capacity of 4 million square metres, a coating line with an annual capacity of 4 million square metres and a satin line with an annual capacity of 1.5 million square metres.