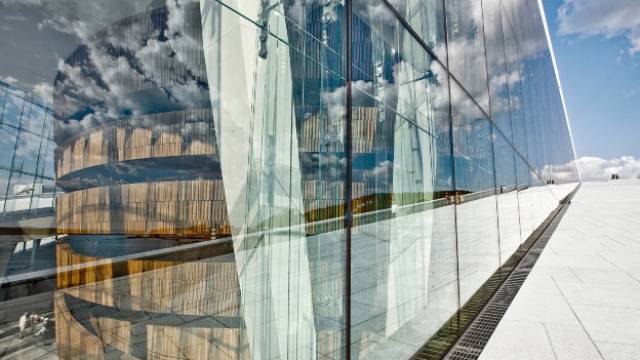 sedak will be present at glass technology live during glasstec with a triple laminate, showing a pioneering solution that opens new possibilities also for the shipbuilding sector.
Extremely heavy, extremely thick and processed with an extreme precision – with its multiple, elliptical laminates cold bent during lamination, sedak shows what can be done with glass. At the special show "glass technology live" during glasstec, the leading fabricator of (functional) glass in maximum formats up to 3.2m x 16m, is presenting a triple laminate. The glass expert will show a pioneering solution that opens new possibilities also for the shipbuilding sector.
The exhibit shows a 20mm thick triple laminate in the dimensions of 1.3m x 3.7m in a way it has already been installed in a yacht's hull. The glass pane was cold bent during lamination with a rise of 120mm and a diagonal bending line. It therefore nestles perfectly against the ship's spherically shaped hull. The edge has been ceramic-ink printed to protect the bonding against UV radiation and to ensure a flawless visual quality. "Besides this glass pane, 39 elliptical glass laminates with 15 different bending radii were installed in the mega yacht," says Ralf Scheurer, project manager at sedak. The single laminates have a weight between 85kg (double laminates) and 1,250kg (10-layer laminates). The latter ones are 12.8cm thick and were installed in the yacht's lower bow. Despite different dimensions, each of the 40 glass panes has an area of about 4.0sqm.
The 10-layer laminate passed the required leak test 50m under water (load pressure: 50t/m²). The glass has been registered as a trademark for the shipbuilding industry.
This cold bending technique has been optimized by sedak. Prior to lamination, the glass lay-up is bent to the required shape on a bending rig. Afterwards, the lay-up is bonded together in the autoclave.
That process requires clean-room conditions under which the fully tempered or heat-strengthened glass panes are assembled to form the laminate. In order to avoid air bubbles and to ensure a high-quality product, the glass lay-up is laminated in a vacuum bag.
sedak uses a shear-stiff SentryGlas® interlayer so that the glass maintains its curved shape after the lamination process in the autoclave.
The advantage of cold bending during lamination: no surface deformation and therefore the best visual quality that a bent glass can offer.
sedak supplies monolithic glass, multi-layer glass units, and functional insulating glass in dimensions up to 3.2m x 16m: processed, tempered, laminated, printed, coated, and cold bent. The manufacture of glass up to 15m is fully automated thanks to the world's largest insulating glass line.