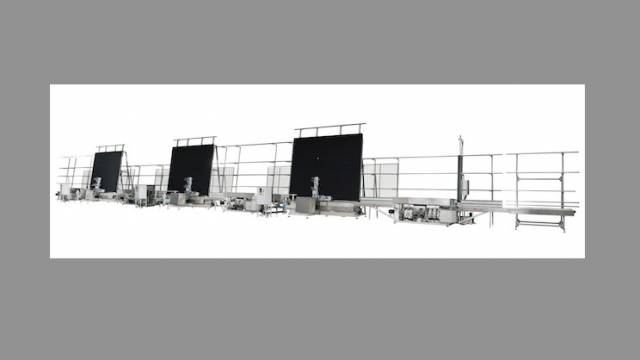 Schiatti Angelo Srl is participating for the first time at GPAD with its American agent DeGorter Inc as Gold sponsors.
The proposal was made to the company by the US agent in view of Schiatti's recent supply of machinery showing high levels of automation and technological innovation, that reflect the growing demand in the American market for integrated hardware and software products for production process automation.
Schiatti is very enthusiastic about this opportunity to display its best solutions to a select highly qualified market. The two-day fair is instructive in concept and was established to illustrate the benefits of automation by bringing detailed information on the latest developments in machinery and equipment  to leaders in the field.
Specifically, Schiatti will be highlighting  its TURNOVER straight-edger line designed  to work automatically on 4 sides of the glass sheet. 
The line is composed of four straight edging machines (which the customer can choose from over thirty models in production) and three vertical turntables that each rotate the workpiece through  90°.
The advantage of this machine is that work on a succession of sheets of any dimension requires the   operator only to load and unload the sheet; the PLC manages the working cycle automatically.
Where space is not sufficient to accommodate a 40m long line, Schiatti has a more compact "ring" solution composed of a single edging machine, a turnover unit and a series of conveyor units to recycle the sheet.
The presentation will be given by Cinzia Schiatti for the Schiatti Angelo Srl and Peter DeGorter for  DeGorter Inc, the topic will be Automated High-speed Bilateral Grinding and Perforation Solutions.
The objective is to show  expert customers how our automated lines and products can be integrated into existing production processes and ad hoc solutions.
Schiatti Angelo SrL has been active in the United States market since 1974 and continues it long standing collaboration with DeGorter Inc. who, thanks to decades of experience in the field, the competence of the management team  and a  network of sub-agents, have created an immense pool of satisfied trusting customers. Exports in the USA show a clear increase in 2016, tangible evidence of recovery in the American market and present government intentions suggest that the home market will increase even further.
The Schiatti Angelo Srl trading network is very extensive and structured, and covers 90% of the world and not just the USA.