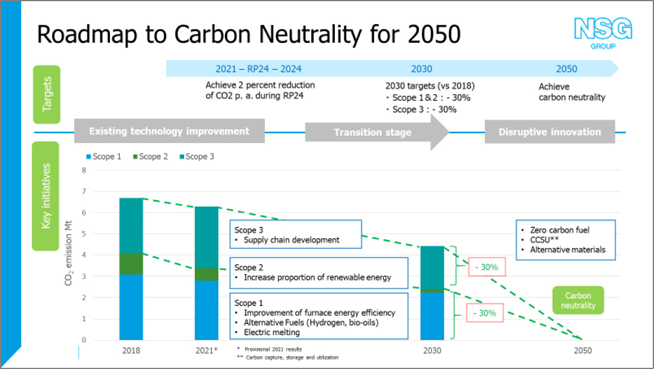 NSG Group has announced that the Group's increased ambition target to reduce greenhouse gas (GHG) emissions by 2030 has been certified by the Science Based Targets initiative (SBTi) as a "science-based target", a first for a Japanese based glass manufacturer.
SBTi is a partnership between CDP (former Carbon Disclosure Project), UN Global Compact, WRI (World Resources Institute) and WWF (World Wildlife Fund), and helps companies set science-based goals for reducing greenhouse gas (GHG) emissions to prevent the impact of climate change. At present, the targets of more than 1,400 companies worldwide and more than 200 Japanese companies have been certified by SBTi.
In October 2019, NSG Group set a SBTi certified, science-based target for reducing GHG emissions (Scope 1 and Scope 2) by 21 percent when comparing 2018 levels to 2030.
As announced on 12 May this year ("NSG Group to Increase Carbon Reduction Target by 2030 Committing to Achieve Carbon Neutrality by 2050"), the Group has decided to raise its 2030 CO2 reduction target to 30 percent, including Scope 3 (value chain emissions). This new target has now been officially certified by SBTi as a target to limit the average rise of global temperature to well below 2 degrees Celsius from pre-industrial revolution levels.
NSG Group is continuously promoting various measures to reduce carbon emissions. As some examples of recent initiatives, The Group has successfully manufactured architectural glass in the UK using hydrogen and bio-fuel in world-first trials. The Group is also globally expanding the usage of renewable energy such as installing solar panels in many facilities and a battery storage system in Canada, as well as entering into a VPPA contract (Virtual Power Purchase Agreement) for renewable electricity generated by a wind farm in Poland.
NSG Group will continue its efforts to achieve the 2030 target and ultimately achieve carbon neutrality by 2050.