IKEA has recently opened its most sustainable store in Greenwich, London. Built by McLaughlin & Harvey Construction to the design of SRA Architects, IKEA's impressive new Greenwich store is a place for people to socialise, learn and shop.
The new 32,000m² store at Millennium Leisure Park is easily accessible by public transport, with up to 50 buses passing nearby every hour. Visitors can find a wildlife park, roof garden, pavilion and a dedicated Learning Lab, where customers can learn how to prolong the life of their products, how to reduce waste and how to grow their own food.
Sustainability at Heart
IKEA's store was designed to promote sustainable living and well-being, delivering a positive impact on the community and on the environment.
"Sustainability is at the heart of everything we do at IKEA and moving to a circular economy is essential if we are to continue to meet people's needs and dreams while staying within the limits of the planet", said Hege Sæbjørnsen, IKEA UK & Ireland's Country Sustainability Manager.
One of IKEA Greenwich's main goals is to achieve 100 percent renewable energy and a BREEAM 'Outstanding' accreditation. The eco-friendly store maintained its familiar blue façade, but with the added innovation of using several renewable construction materials and green technologies, including; 12,000m² of solar panels interspersed with large glass rooflights, a 4,000m² green roof, rainwater harvesting that will contribute half the water used in the building, geothermal heating that draws heat from the ground and 100 percent LED lighting.
"IKEA Greenwich aims to take sustainability to the next level, not just in its design and architecture, but by inspiring and enabling Londoners to live a more sustainable life at home through our products, workshops and activities", said Store Manager Helen Aylett.
The benefits of using glass rooflights in commercial spaces
Interiors filled with natural daylight and reducing a dependence on electricity and artificial lighting were essential requirements for both IKEA and the Architects. The building was designed to let in large amounts of natural light, with large sliding glass panels along its walls, connecting the pavilion and garden areas and energy-efficient rooflights reducing the need for artificial illumination.
Architects, builders, contractors and developers understand the benefits of using natural light in commercial buildings. Natural daylight has a powerful effect on customers' and employees' sense of well-being and mood; it positively affects brain and eye functions, influencing staff performance and productivity; it makes products look even more attractive, and ultimately it helps to create a happy, well-lit environment where customers' like to dwell and spend their time.
Non-fragile rooflights for commercial buildings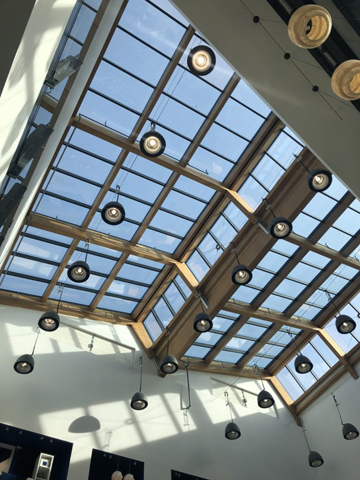 As the rooflights were located adjacent to the roof garden and on the roof of the pavilion, public safety was paramount, hence the rooflights were specified by SRA Architects as non-fragile to CWCT TN66 and TN67 Class 1, the highest level of non-fragility.
Roofglaze were selected by McLaughlin & Harvey Construction because of their expertise and experience of providing bespoke non-fragile high performance rooflights, gained from working on prestigious projects such as the new Foster & Partners designed BBC Wales Headquarters in Cardiff, which involved supplying over 700m2 of Class 1 non-fragile rooflights.
The architectural glass rooflights were installed strategically across the building to maximise natural daylight and reduce the need for artificial illumination and energy consumption.
Roofglaze's team used their expertise to deliver and install at the North side of the building an intricate, part-supported bespoke 15° and 60° pitch, dual-pitched Schüco FWS 60 rooflight measuring an impressive 19,016mm x 5,800mm. The rooflight is divided lengthwise into six equal width bays and further divided into seven equal width bays down-slope.
For the South side of the building, the Roofglaze team engineered a remarkable Schüco FWS 60 15° and 60° pitch 'saw-tooth' profile bespoke, multi-faceted tapering double ridgelight rooflight, measuring in at 16,000mm x 12,945mm. The rooflight, part-supported by a stunning glulam structure comprised of four interfacing sections, divided into 1,100mm wide bays.
At IKEA's Pavilion, a contemporary 1,360mm x 14,760mm double glazed multi-section Roofglaze Flatglass rooflight was installed, flooding the area with natural daylight. For maximum effect the impressive rooflight was divided into six 3.34m2 large sections.
A 10mm clear Heat Soak Tested Toughened outer glass, with a 13.5mm Clear Heat Strengthened Laminated Glass with 1.5mm SGP / ionomer high strength inter-layer inner glass was specified to achieve CWCT Class 1 non-fragility.
Roofglaze recommends using CWCT classified and tested glass for overhead rooflights on all commercial projects to protect not only the building occupants below the rooflights but also those responsible for the cleaning and maintenance of the skylights.
"Roofglaze's rooflights added real value to this project. We required a bespoke non-fragile rooflight solution from a reliable, experienced manufacturer at a competitive price; and once again, we've found that Roofglaze has met our expectations. Their team is easy to work with, providing a high level of support throughout each stage of the project. We were very pleased with the rooflights and with Roofglaze's performance", said Keith Duncan, Chief Project Architect at McLaughlin & Harvey Construction.
Roofglaze can deliver exactly what is needed to bathe commercial spaces in natural daylight.
For more details on rooflights for commercial projects contact estimating@roofglaze.co.uk.