November 25, 2021, the new tunnel kiln was fired up at the Urmitz, Germany, plant of RHI Magnesita, world market leader for refractory products and solutions. The 122-meter-long lightweight kiln generates temperatures of up to 1550°C and represents the heart of modern refractory production. It is primarily used to fire bricks for the refractory lining of aggregates, which are essential for the steel, glass, cement, lime, energy and chemical industries.
This is the first time in decades that a tunnel kiln for shaped and fired refractory products has existed at the Urmitz plant. Once fired, the tunnel kiln will burn continuously for several decades and its performance will increase the plant's capacity by around 25,000 tonnes per year. The new tunnel kiln significantly expands the plant's product range and serves to further enhance offerings in non-basic refractory products.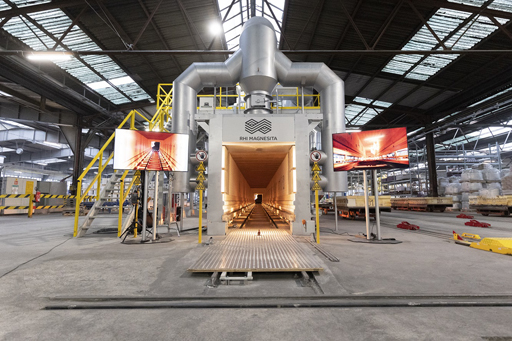 Investment volume of 23 million EUR
RHI Magnesita has invested a total of 23 million EUR in the site. This will re-equip and expand the traditional plant as a central European hub for the manufacture of non-basic refractory products. In addition to the costs for the construction of the tunnel kiln, the investment is accompanied by the modernization, automation and all-encompassing digitalization of the plant, which are decisive factors for the optimization of the value chain. This will grow the plant's production volume and at the same time increase its energy efficiency by 10 percent.
"The significant investment in this European site is ground breaking. The new tunnel kiln in Urmitz puts us in an optimal position throughout Europe, as it contributes to a significant increase in efficiency and thus to higher production capacity. Our objective is to set new standards in the industry with the help of smart digital solutions and infrastructures and to set the course towards sustainability," said Rajah Jayendran, COO of RHI Magnesita.
"The sum is the highest RHI Magnesita has ever invested in Germany – and underlines the strategic importance of the plant, which provides many jobs in the region. The tunnel kiln installation in Urmitz also creates a new demand for jobs: for example, for the first time, employees are being sought who are experts in the field of kiln technology as well as product engineering. A total of 65 new jobs will be created at the plant," summarized Constantin Beelitz, Regional President Europe, CIS & Turkey RHI Magnesita.
Ceremonial commissioning
The mayor of the Weißenthurm municipality, Thomas Przybylla, was one of the guests of honour invited to the event. Together with plant group manager Markus Pung and COO Rajah Jayendran, he inaugurated the tunnel kiln in a firing ceremony.
The mayor underlined RHI Magnesita's vital role in the region, "As an important innovation and economic factor, the RHI Magnesita plant in Urmitz not only makes a major contribution to the state of Rhineland-Palatinate, but also assumes its great responsibility – as an employer for new high-tech professions and as a firmly anchored member of the community. I am pleased that investments are being made in the Urmitz site and that a showcase project in the field of automation and digitalization, which is significant for the industry, is being built in the middle of Rhineland-Palatinate."
"RHI Magnesita is the technology leader in the refractories industry. As an innovation driver, we have set ourselves the goal to retool and expand our plant in Urmitz as a central European hub to produce non-basic refractory products. This will enable us to meet customer requirements even more specifically and with even higher quality," explained plant group manager Markus Pung at the inauguration ceremony. "With the firing up of the new tunnel kiln, we are a big step closer to achieving this goal."