During a recent visit in Portugal, R.C.N. SOLUTIONS has been guest of a very important customer: Vitrocelos Vidraria. A young but dynamic company, Vitrocelos is growing in space and equipment, increasing its offers for specialised end products.
With this in mind, Vitrocelos has worked on relevant projects for laminated glass installed exterior, exposed to weathering and to some oxidizing agents, especially to chlorine as in the case of a swimming-pool, under construction in a private building.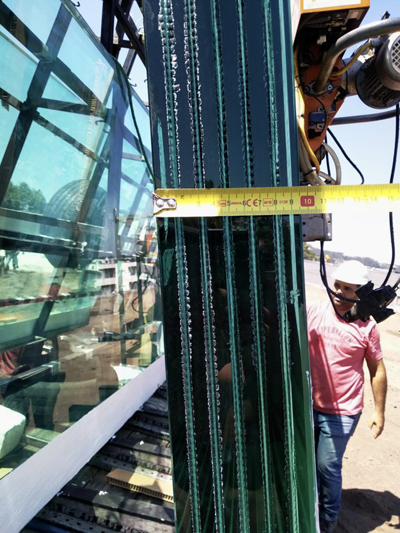 With a composition of six glass sheets of 15mm each, for a total thickness of 93mm, which includes 2.28mm of REVA BF for each panel, the project has been accepted among other proposals and validated by an engineer upon several tests among which the perpendicular compression test.
This important job has been processed with a full RCN laminating system, namely one Lammy System 2, one chamber, 2 shelves, active size 5000x2500mm and taking six hours to process, with the utmost transparency and adhesion results. Significant is also the weight of each glass block to be laminated and the certainty each shelf and the lifting platform of the kiln can load such a weight while keeping the flatness of the glass sheets.
That is the evidence the RCN philosophy for complete quality supply is a winning point, the company strongly believes this added value confirms that its choices in building machines are the right ones to enable customers to work in total confidence, relying on a combination studied and tested for long time.