Customers from around the United States gathered the first week of May 2023 in Nashville, Tennessee, USA, for A+W's biennial User Conference (a.k.a. Converge) to connect, network, and learn from A+W employees, innovation experts, and each other.
A+W's theme this year was "Innovating for Tomorrow." From the first presentation through to the last, A+W employees demonstrated how they work to "innovate software solutions that solve our customer's toughest challenges," according to Dennis Tiegs, COO Business Unit A+W Clarity.
Innovation initiatives at A+W are focused on the needs of customers allowing the company to shape products, their functions/features, the supported systems, etc. As an industry leader on the innovation curve, A+W strives to develop software solutions, such as A+W Smart Companion, A+W iShape, and A+W Smart Delivery (more to come about each innovative solution), that meet customer's future needs today, increase their competitive advantage/productivity and generate greater output/value with the same amount of input. To make innovation happen, David Lloyd George eloquently reminds us to not "be afraid to take big steps when one is indicated. You can't cross a chasm in two small jumps."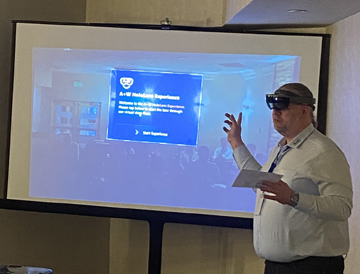 Sebastian Dick, Manager of A+W Clarity Innovation, and Steve Mason, Director of R&D, allowed attendees to take a deep dive into A+W's innovation initiatives, starting with "A+W Smart Companion," which is scanning software that acts as a mobile information terminal, allowing employees to display locations of order components and contents of racks. A+W Smart Companion's popularity spawned seven new initiatives, each of which enable your employees to work more efficiently starting in the front office and ending at delivery. The first of these A+W Smart Companion initiatives (three most popular are slated for development) rolls out at GlassBuild 2023. So, be on the lookout for announcements coming soon.
Innovation doesn't stop at scanning, A+W customers learned about initiatives around A+W Smart Delivery, A+W iShape, Augmented Reality (AR), etc. Sebastian captured the audience's attention with an interactive look at the future of rack and inventory tracking on their shopfloor with Artificial Reality (AR) goggles. Sebastian's hands-on demonstration highlights how A+W is looking at the future to address bottlenecks and information gaps on the shopfloor.
A+W presentations weren't all glitz and glamour. They also focused on important issues facing all flat glass fabricators, including IT threats and security, customer service, capacity planning, and shipping logistics. One of A+W's goals as a software company is to educate customers and prospects as well as provide actionable information that promotes increased education, improves our customer's optimization, decreases bottlenecks, and lends insight towards an exciting future.
The importance of in-person presentations and one-on-one discussions was evident in Nashville. Whether you're asking or answering questions during a presentation, conversing between presentations, or laughing over an appetizer, the in-person connection is vital for both provider and customer. When you meet up with peers, competitors, product leads, drivers of innovation, and partners, you expand your horizons and network to deepen your knowledge and improve your potential for greater growth.
To find out more about A+W's exciting, innovative software solutions, please contact Josh Rudd or Chris Kammer.