PGP Glass Private Limited is a global specialist in design, production, and decoration of glass packaging (flaconnage). PGP leads the way globally, for glass packaging solutions in businesses such as Pharmaceutical, Cosmetics & Perfumery, and Specialty Food & Beverage.
The company, under the globally recognized brand name of "PGP Glass", offers complete end-to-end glass packaging solutions in over 50 countries. PGP has its design, production, and decoration footprint in the USA, India, and Sri Lanka with an overall capacity of 1475 tonnes per day, with 12 furnaces and 65 production lines.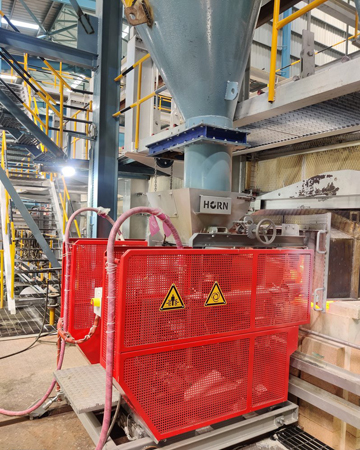 On 14 August, 2021, HORN started the furnace heat-up process at Asia's largest speciality glass manufacturer PGP Glass´ 250 tpd end fired furnace J in Jambusar, India. HORN supervisors for utility and electrical equipment were on site to support the processes. The new container glass furnace with seven forehearths manufactures cosmetic / premium flint glass.
In this greenfield project, HORN´s scope of supply included the Engineering of the refractory material and steel construction, Combustion system, Measuring and Control Equipment, Boosting System and HORN Batch Chargers HVR® 500F.