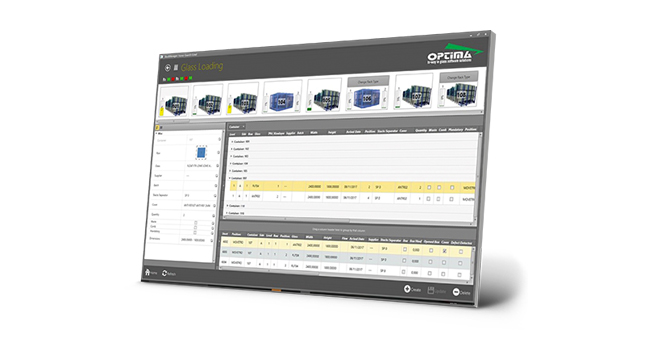 Stock Manager is a software solution specifically designed for automated system manufacturers for the glass loading and stock supervision/management.
While items are loading into stock, the system allows operators to track data such as the supplier company, batch and date as well as stacks, separators distances and covers in case of Low_E Glass.
All stock data are also directly displayed in the office with Opty-Way Enterprise ERP (where installed) which shows stock tuantity and booked material data, always updated to correctly plan purchase orders.
The stock management software can, based on each plant's specification, automatically supervise stock machinery movements for single sheet or glass packs pickings, glass cutting lines automated requests or planning work orders beforehand. Picking strategies are designed with the main goal to reduce loading time, thus increasing efficiency and productivity, serving lines based on priority and, where applicable, picking glass sheets ordered by age.
The advantages of Stock Manager are:
Very clear and user-friendly HMI interface
PLC messages display and history of all messages / alarms
Users management by Password
Multilanguage and Multi Unit of measure
"Cover" management
Broken glass sheets management and pickings constraints
Management of different working areas
Unlimited different type of Glass per each Rack
Waste recover management
Glass movement from a rack to another
Machine's unloading glass process management
Data record as cutting times, offcuts percentage, production trend
Automatic Packing List printout
Full integration with other Optima systems like: Opty-Way Enterprise, GMC-Monitor, Re-Opt for the supervision of the whole production cycle