The new performing arts centre (NPAV), designed by renowned architects Snøhetta and Blight Rayner with AUD 150 million, is in construction in Brisbane, Australia. At present, nearly 150 pieces of 7-metre double laminated insulating tempered glass created by the deep glass processing of NorthGlass have been supplied.
The NPAV is inspired by the shape and texture of the winding Brisbane River and its bank façade. The curved glass of different curvature sizes echoes the Brisbane River, creating a modern building with great visual impact.
The original intention of the glass curtain wall design is to seamlessly integrate with the overall architectural concept of the NPAV, so the whole curtain wall glass is frameless. In order to achieve this effect, the designer required that the height of the arc should not exceed 5 mm, that is, the arc rate is below 0.7‰. Generally, the arc length of glass production equipment will not exceed one third round, otherwise it is easy to cause the height of the straight edge arc shape is not controlled. The arc length of the project glass has reached the semicircular size, which is very challenging for production. After more than a month of technical transformation, the arc of glass is controlled within the customer required 5 mm.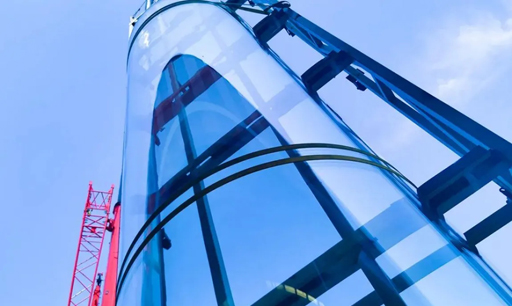 Another problem is the reflection of the inner arc surface. Because the glass radius is small and semicircular, if the inner arc surface is not smooth enough and the audience stands inside and looks out they could experience vertigo.
There is a dilemma to ensure that a certain temperature makes the arc bend within 5 mm, and to minimize the temperature to control the glass deformation. The gapless convection, intelligent temperature control system of NorthGlass unique technology make the glass heating more uniform, at the same time, the optimized wind grille structure accurately control the accuracy of the optimization of parameters, to achieve the best balance point, to ensure that all parameters meet the needs of the designer.
The NPAV design concept emphasizes the overall efficiency and sustainability of the building, ensuring durability, weather-ability and excellent thermal performance. The excellent quality and craftsmanship of NorthGlass can not only create an attractive, dramatic and unique aesthetic architectural appearance, but also can optimize energy efficiency, create comfortable indoor conditions, and reduce the impact of the building on the environment.
As a key element of the NPAV design, the glass curtain wall, combined with the overall architectural design concept, enhances the cultural significance and architectural beauty of the new venue in Brisbane, and creates a vibrant and attractive space.
NorthGlass is not only an architectural element here, but also a symbol of transparency, connection and artistic expression. It will become a new symbol of Brisbane, providing an unforgettable cultural landmark for art performances and the public.