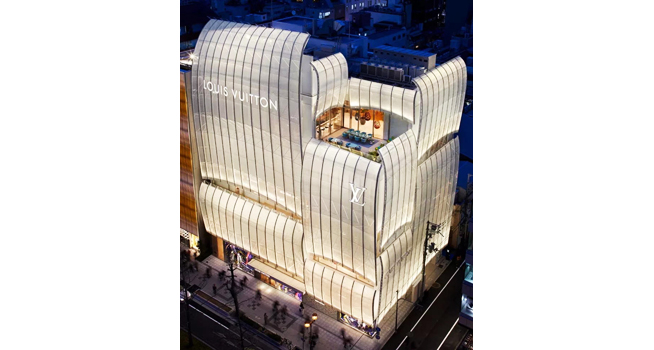 Opening February, the new Louis Vuitton flagship store in Osaka, Japan truly resembles a sailing vessel with sails unfurled and billowing thanks in large part to a clever façade design made possible by Tianjin NorthGlass.
The building adopts a double-layer curtain wall system, with the external façade composed of specially shaped, digitally printed, laminated and toughened glass, which is bent to form a sail billowed in the wind. The internal curtain wall is composed of ultra-clear digital-printed, heat-strengthened insulating glass. Both the internal and external curtain walls are made by Tianjin NorthGlass.
Because the finished bent glass is super wide with a massive arc length and is composed of custom shaped and digitally printed laminated glass, while the bent arc radius is large, it is very difficult to control the arch height and arc degree when making the interlayer. After analysing the order in detail, the technical experts of Tianjin NorthGlass limited the deviation of each single-side arch height to within 0.5 millimetres and the deviation of adjacent glass edge arch heights to within 1 millimetre through a series of technical measures.
The Japanese pursuit of product quality can be very exacting: the size, shape and colour of the product must be completely consistent with the sealed sample, while the layout of the line and the clarity of the line has to be visually uniform. For this project, there could be no oil burr around the lines, no other colour and spot faults on the glaze surface of the white line, and no visible ink misting spots in the blank areas around the colour glaze line.
The most difficult part was to highlight the clear gradual change effect of the lines, and at the same time ensure a visual sense of hazy light transmission. In the face of these stringent requirements, the experts of Tianjin NorthGlass continued to run tests before finally selecting four kinds of samples. They invited their customers to see the samples on site, and then modified those samples until their clients were satisfied.
During this process, Tianjin NorthGlass never missed any details, recording the data of all segments according to the customer's requirements. It is exactly because of the quality control of these details and the strict inspection of the finished glass that the company finally produced the "zero defect" products that satisfied their customer.
With the enterprising philosophy of "innovation is endless and hard work will win," NorthGlass aims to create high-performance and high-quality glass products for international high-end customers. The successful acceptance of the project with its high requirements, high standards and high quality has created Louis Vuitton's immortal "sail" in Japan. While being highly recognized by the owner and the designer, NorthGlass has also established a solid foundation for its high-end deep processing glass products within the Japanese market.