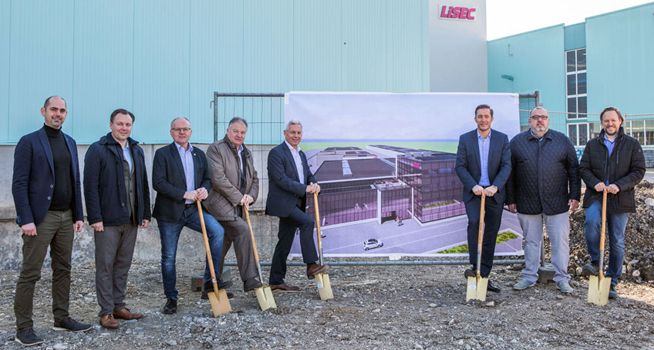 Nowadays, shared desk concepts and Home Office are fixed parts of the working environment at LiSEC. With the expansion of the Engineering Centre, the working environment will be modernised and a total of approximatively 100 to 130 additional workplaces will be created on an area of 2,000 square metres.
Gottfried Brunbauer, CEO at LiSEC, highlighted some of the advantages of the expansion: "By expanding directly on the site, the space will be used efficiently. Fragmentation due to additional office locations is avoided and distances remain short."
The window area is maximised, creating many bright workplaces. The existing buildings will only be carefully interfered with and the ability to work will be maintained as far as possible during the construction phase.
Project Manager Gerald Szigethy, Head of Technical Services, said about the construction, "The expansion of the Engineering Centre will create a modern office space which optimizes the working environment of the technical teams. The new building is directly adjacent to the Test Center Hall. This will enable the technicians to develop new, highly automated systems as well as state-of-the-art digital products very efficiently."
A total of approximately EUR 7 million will be invested in the expansion of the Engineering Centre as well as the extension of the logistics areas. The goal is to complete the expansion in the first quarter of 2023.
Expansion of logistics areas
More space is needed in the assembly halls at LiSEC due to the high order volume. A warehouse on the factory premises with approx. 2,000 square metres provides the solution. The lightweight hall will be built adjacent to the existing production hall in the east of the factory premises. It is planned to be completed by the end of June 2022.
New Work at LiSEC
New Work aspects are being considered both for the expansion itself and for the existing areas. "Our working world is in a constant state of change. We are intensively dealing with the topic of New Work. The new building will also create central social, meeting and collaboration zones to support the digital transformation of our company and offer an attractive working environment for our employees," said Oliver Pichler, CFO at LiSEC.