Automation is, nowadays, a keypoint for companies. Lattuada has developed several solutions, within its CYBERAL project, to automate activities and increase production flexibility.
The strong points of all Lattuada products mainly concern their simple use, long life, high processing quality and limited maintenance required. The ability of being able to customise all machines to the utmost, ensures that they can be adapted to customers' different needs.
Lattuada's current machines range includes:
more than 30 models of electronic or PC-equipped straight-line edging machines for flat edges with arris, and with variable angle from 5 to 16 wheels;
peripheral edging machines from 4 to 8 wheels;
complete line of double-edgers from 8 to 11 wheels on each side, for flat edges with arris;
more than 10 models of electronic or PC-equipped straight-line bevelling machines from 7 to 14 wheels;
4 models of automatic corners grinding machines;
complete range of vertical washing machines;
complete line of horizontal drilling machines.
AUTOMATIC MACHINES – THE A-WR SYSTEM
Robotics and automation require automatic machines. It is possible to ask for a special package of options (i-AL) for automating machine adjustments and increasing the production flexibility on all Lattuada edgers:
1. A-WR System:
– Automatic pre-setting ZERO procedure of diamond and resin wheels, without glass, and in less than one minute
– Automatic recover of polishing wheel wear
– Automatic positioning for wheel replacement
– Jog increase/decrease of spindle position (accuracy 0.01mm)
– Automatic positioning on set-point
– Automatic backlash recovery
– Automatic
spindle cleaning
procedure
– Wheel wear warning
– Spindle problems warning
– Manual unlocking for any situation
2. Digital ammeters and automatic alert system for polishing wheel wear
3. Brakes on all polishing spindles for wheel wear recovery
4. Automatic management of thickness, pressure, removal and speed
5. Management of working phases by means of a touch-screen panel
6. Assistance service with AR (Augmented
Reality)
7. Proportional valves for pressure regulation of the polishing spindles
8. Motorised glass removal with portable push-button panel
9. Glass length measurement
10. New progressive lubrication system
11. Remote-assistance and support
12. Data-logging and IOT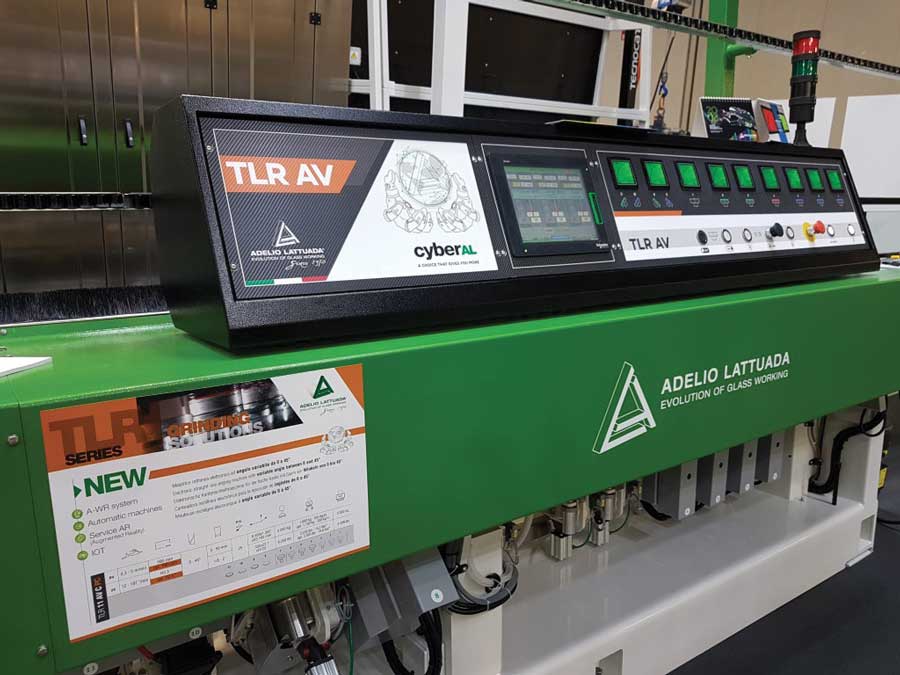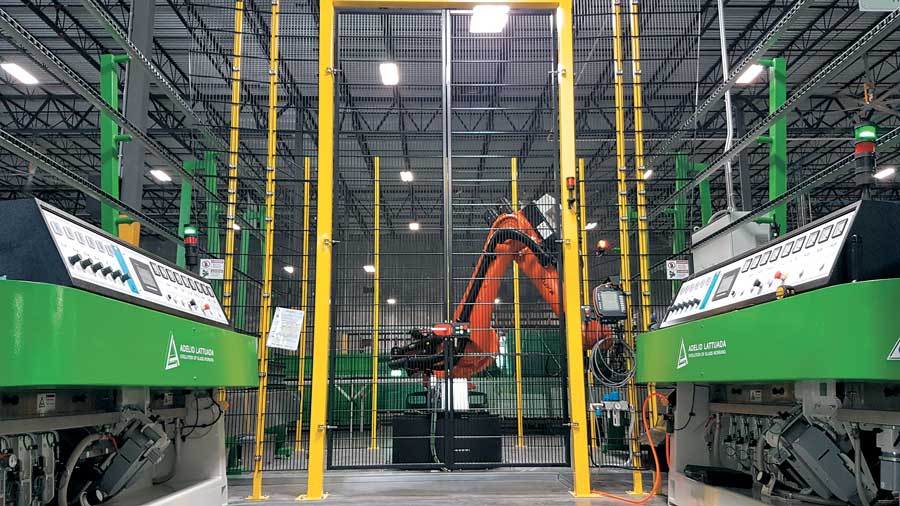 ROBOTIC SOLUTIONS
Thanks to a strategic partnership with the German company Knittel Glass, Lattuada can offer robotic solutions for any variety of needs and goals: increasing of automation levels, higher flexibility and productivity, production optimisation and consequent costs reduction.
Lattuada-Knittel solutions require only one operator (which means reduced labour costs plus higher safety), also offering higher energy savings (compared to other solutions) with a very competitive price.
These solutions grant continuous production thanks to ease of use, standard maintenance, reduced downtime and high speed (up to 5 mt/min).
Their advantages include:
• The quickest solution available on the market
• The most sold and installed (our partner has installed over 150 similar solutions on glass edgers alone)
• The widest experience in this field (Knittel Glass has been supplying robotic applications in the glass business since 2000)
• Ease of use and maintenance
AR (AUGMENTED REALITY)
Thanks to an augmented reality program dedicated to service, with a tablet or a smartphone it is now possible to provide technical assistance to customers in a simpler and more direct way using a tablet or smartphone.
Through the camera of a smartphone/tablet, the company can observe problems, errors, faults or alarms on the machine, and solve them more intuitively thanks to 3D icons and indications applied to the real environment. This ensures a clearer, faster and more cost-effective service, which can therefore reduce downtime and potential costs caused by machine stops.
IOT
Lattuada IOT i-Like Machines software, which connects machines to each other to monitor them, clear data is also provided through an interface that is intuitive and easy to use. This allows to:
monitor production cycles in real time;
receive alerts in the event of malfunctions;
optimise plant availability and production;
plan maintenance work;
reduce failures and downtime;
view machine use data and report records.
The system includes:
Siemens IOT hardware to collect data from the PLC and to send them to cloud servers using MQTT protocol
License to access to a dedicated dashboard to visualize, analyze and download all the production data
Possibility to exchange data with an external system (ERP, MES, etc.)
INTEGRAL: LATTUADA INTEGRATED SOLUTIONS, FOR ALL NEEDS
Grinding solutions
The company provides a wide range of machines: more than 40 models, which can be configured specifically to ensure maximum productivity.
Washing solutions
For more than 20 years, Lattuada has been studying and providing solutions for glass washing. They offer a full range of high-tech, vertical washing machines that are easy to use and maintain.
Automation and robotics solutions (CyberAL)
The company is constantly formulating solutions to operate at the highest levels of automation, making the most of integration with robotics to increase productivity and reduce costs.
Special machines solutions
Lattuada can find the most suitable solutions for specific needs, such as out-of-standard processes, customising machines to ensure any flexibility needed.
Complementary glass processing solutions
Lattuada can provide a complete range of horizontal drilling machines and automatic radius and straight corners grinding machines.
Stone processing solutions
The company designs ideal machines to process marble, stone, synthetic, and composite materials.
Industry 4.0 solutions
Lattuada can support its customers in the streamlining of production processes by offering high-tech solutions to digitise, connect, monitor, manage and optimise data in real time.

Adelio Lattuada Srl
www.adeliolattuada.com
cyberal.adeliolattuada.com