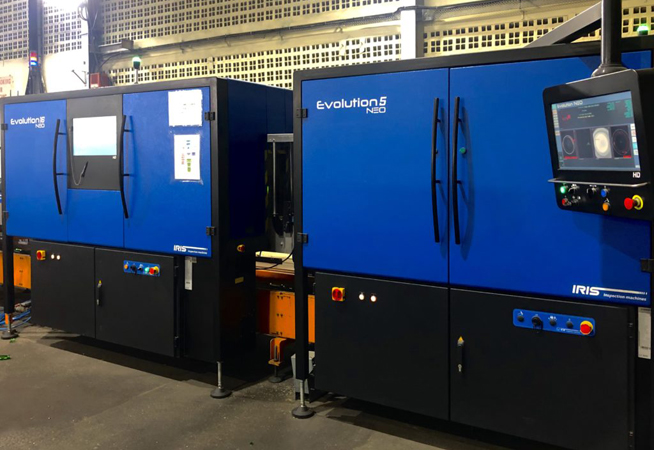 IRIS Inspection machines has worked closely with Carib Glassworks to provide a solution, assisting the customer to take advantage of the increased productivity benefits provided by NNPB technology.
Overpress defects occur when excess glass projects upwards from the inside edge of the finish, often protruding above the sealing surface. They are critical defects in all types of finish and alongside wire edge, they are process-related. The root causes of both defects are the same, resulting from excessive gob weight, incorrect plunger mechanism adjustment or synchronisation and dirt/glass particles disturbing the plunger stroke.
Carib Glassworks is located in Port of Spain, Trinidad and has a rich history, dating back to 1948. The specialist glassworks is a member of the ANSA McAL Group of Companies, its founding fathers having laid the platform for a highly automated manufacturing facility, employing some of the best regional technical professionals.
The factory produces both standard and custom-made containers in flint, green and amber for customers in the soft drinks, beer, food, alcohol and juice sectors. Four years ago, the glassworks doubled production capacity to 70,000 tonnes/year via the commissioning of a second melting furnace and three production lines. And in 2019, NNPB technology was introduced. This followed the acquisition of a new IS machine and has allowed productivity to be increased by reducing bottle weights.
Carib Glassworks started working with IRIS Inspection machines in 2015, equipping five production lines with Evolution camera-based, non-contact inspection machines. Having encountered wire edge and overpress defects last year, the glassmaker worked closely with IRIS engineers to identify an inspection solution. Over a period of six months, extensive tests were conducted with the new wire edge module from IRIS on two production lines. This dedicated module uses a discriminatory approach, identifying in a binary way an acceptable bottle from even a small wire edge, without compromise. The module is easy to set up and reaches an optimal set up with less compromise and in much quicker time.
In association with several of the glasssmaker's customers, the equipment has been fully validated on many products for a variety of global brands, including Heineken, Desperados, Budweiser, Coca-Cola, Fanta, Sprite, Pepsi, Bec's, Corona and Leffe. Irrespective of glass colour, the wire edge solution delivers the same inspection results on green, amber or challenging flint.
Carib Glassworks has been impressed with the results achieved, so much so that at the beginning of 2020, the press-and-blow lines at the site were equipped with the dedicated wire edge module.