Horn, a German based company specialising in equipment for glass melting technology, uses its own design and know-how to produce tailor-made solutions for its customers which include furnaces, batch chargers and burners.
Horn's extensive expertise in all fields of glass melting technology is shown in the supply of equipment which is innovative and state-of-the-art technology. The special Horn design and know-how for the equipment allows to offer customers tailor-made solutions engineered in Germany.
Different types of furnaces and equipment for glass melting furnaces to increase capacity, e.g. barrier boosting, melting boosting, throat boosting, bubbling systems or oxy-boosting are supplied by Horn. Customers get exactly the equipment which is specially tailored to their individual needs to ensure a smooth production process:
Combustion Systems and Burners
Electrical Equipment
Batch Chargers
Bubbling Systems
Reversing Units
Electric Boosting Systems
HVR BATCH CHARGERS
HVR batch chargers are used for furnaces with lateral or front end doghouses. Horn's HVR batch charger is the most classic and popular batch charger of Horn Glass Industries on the market, with three different versions. The most common type HVR F is available with five different chute widths, which all have individual charging performance, according to requirements. Invented and constructed since the founding of Horn Glass Industries, the HVR is still the most popular and reliable batch charger for glass plants.
HVR 300F/400F/500F/550F/600F BENEFITS
Dust reduction through better sealing
Reduction of heat radiation due to heat shield
Fast paddle change within 20 minutes
Increased melting rate due to smaller portions of batch
Homogeneous distribution via swing gear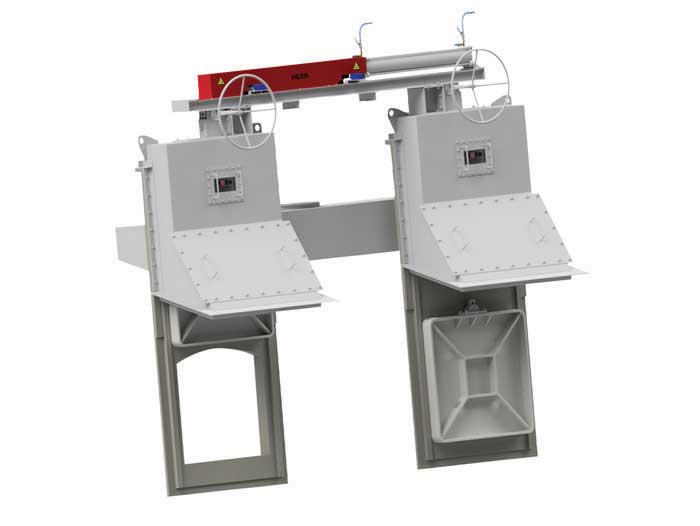 BURNERS
Horn provides several types of burners for different applications. Horn offers two different types of burners, depending on the heat medium the customer uses, for both regenerative cross fired or end fired furnaces. Furthermore, recuperative furnaces as well as the glass distribution channel and forehearths can be equipped with the reliable Horn burners.
DualFlame MC (Manual Control) burners are equipped with special dimensioned burner nozzles according to the existing gas consumption, available flame length and distance between the burner lances.

Horn Glass Industries AG
www.hornglass.com