Horn Glass (Horn) manufactures glass melting machines and equipment, and the technology supplier has recently concluded the biggest project in the company's history with the completion of the largest glassworks in Central Asia. Horn opted for Siemens process control, communications and power supply technology for the container and float glass line. This ensures end-to-end automation which allows continuous operation, consistently high product quality, and low plant costs.
The sheer size of it is impressive: the new glassworks in Turkmenistan meets nearly all the container glass demands for the country's food and pharmaceutical industries. The plants have an appropriately high output, producing nearly six million square metres of different types of glass a year, including laminated glass and transparent glass. This is the equivalent of more than 840 soccer feilds. In order to achieve this level of output, production must be smoothly and reliably automated and the plants have to be perfectly coordinated with each other. To this end, all supplied machines and plants are already fitted with compatible Siemens interfaces and components.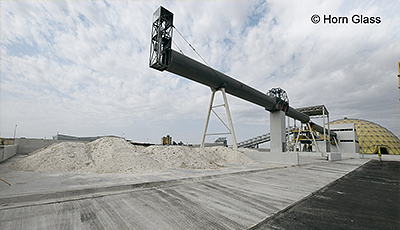 Keeping operations, quality and costs under control
"We use every part of the Siemens product range in the fields of process control, automation and drive technology as well as process instrumentation, switching technology and power supply in our projects," explained Markus Frank, Project Director Electronics at Horn Glass.
This is the case in Turkmenistan too. The brains of the glassworks is a Simatic PCS 7 process control system used throughout the container and float glass line (flat glass line). This user-friendly system ensures continuous operation, high product quality, low plant costs and energy-efficient production with low emissions.
Siemens technology has also been installed on the inert gas mixing station as well as on these lines. Here, Siemens Calomat thermal conductivity analyzers measure the water and nitrogen content. By measuring the thermal conductivity in a gas mixture sample, it is possible to calculate the concentration of nitrogen and hydrogen in the mixture.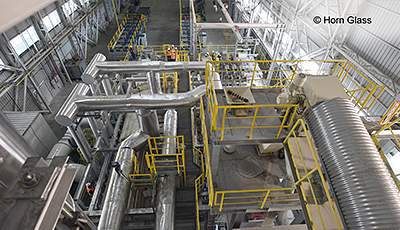 Automation solution from a single source
Sivacon S8 switchboards were installed and communication uses the industrial ethernet standard Profinet, while standard Profibus is used for fieldbus communication. Simatic PCS 7-410H controls regulate the operations on the direct process level.
In order to ensure a simple and efficient cabling design, Horn uses an ET 200iSP distributed I/O which is the best choice for the potentially explosive atmosphere. The modular peripheral is flexible and reliable and requires little engineering.
The end-to-end Siemens solution in Turkmenistan is rounded off with field instrumentation from the Sitrans range, Sirius switchgear, redundant power supplies and drive technology with Sinamics G120 and Sinamics G150 frequency converters.

For more information about Horn: www.hornglass.com.
To know more about what Siemens can do for the glass industry: new.siemens.com/global/en/markets/glass-industry.