Industry exhibitors have endured a four-year wait to finally showcase their innovations in glass production, processing and finishing technologies. To these, they add their new ranges of products and glass applications to the mix while taking advantage of opportunities offered by a varied and complementary scientific study programme.
Thanks to in-depth conversations with experts from all levels on the value chain, Glasstec identified five main issues – each underscored as an essential area for the future development of the glass industry and for our society as a whole. Specifically, these are:
• Climate (reduction of emissions and renewable energy);
• Urban planning (glass in the architecture of the future);
• Value (a sustainable value chain);
• Resources (the efficient and sustainable use of resources);
• Well-being (a better quality of life, thanks to glass).
Birgit Horn, Glasstec Project Director, said, "These macro-trends will be at the centre of attention both in the conference rooms and within specific exhibition spaces, but also at the exhibitor stands themselves. This means we'll be offering sector operators a wealth of information, innovative solutions and opportunities – all to expand their network contacts within the glass world."
Already, registered exhibitor numbers signal encouraging forecasts for the trade fair. As Horn added, "The number of registrations at the beginning of the year tallies as similar to those reached in 2018 – namely pre-pandemic levels. With the last edition organised in Düsseldorf being among the most popular, the signal sent by the glass sector is very positive indeed."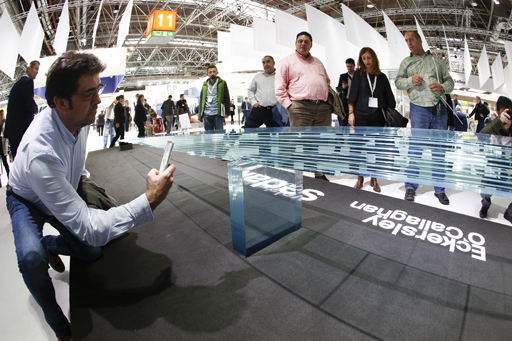 NEXT IN GLASS – glass technology live
This exhibition is dedicated to innovation in the field of applications with glass. Entitled 'glass technology live', it will be organised by the network of polytechnics in Darmstadt, Delft, Dortmund and Dresden. Experts from a wide range of disciplines and sub-sectors will return to thrill visitors and fuel the debate with life-size models and innovative glass structures. The first of a series of videos will soon be published online containing exclusive previews of the details and programs of the next edition of glass technology live. The videos will be available on the glass technology live website and on Glasstec's social channels.
Focused on the five macro-trends mentioned above, the Glasstec conferences will illustrate the know-how of the sector, ranging from theory to practice. Each day, Glasstec 2022 visitors will be able to discover news and developments in the sector during meetings dedicated to glass production, processing technologies and products.
An integral part of the complementary program is also the International Architecture Congress. Organised jointly this year with the Chamber of Architects of the North Rhine-Westphalia region, the congress will be held on Tuesday (September 22, Congress Centre Düsseldorf East) and will be entitled: 'Foresight. Sustainable architecture with glass'.
Glasstec conference sessions
Tuesday, September 20: Glass processing and finishing. Efficient manufacturing and digital solutions
Wednesday, September 21:
Glass production
The path to climate neutrality
Thursday, September 22:
Products and applications with glass (1)
New products and trends in the world of glass
Friday, September 23:
Products and applications with glass
(2) Photovoltaic glasses and new applications with glass
This rich programme is completed by further presentations within the Glasstec conference space, including that of VDMA on communication with machines and that of EuroWindoor on energy efficiency and sunlight use. Included is also the 'Glassinar' cycle – a series of stimulating interventions dedicated to the role of glass in building and architecture. The full Glasstec conference programme is available here.