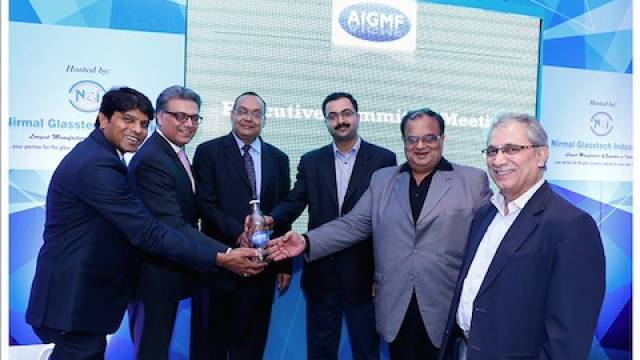 Messe Dusseldorf GmbH, Germany and Messe Dusseldorf India Private Limited collaborated to bring together companies from different parts of the world in 5th GLASSPEX INDIA and 1st GLASSPRO INDIA at India Expo Mart, Greater Noida (Uttar Pradesh, INDIA) from Feb 23-25, 2017.
The bi-annual Glasspex show returned to NCR ever since its launch 2009 event in New Delhi at state of the art facility at India Expo Mart to promote Glass usage in Northern India after its recent successful shows in Mumbai.
The new event glasspro INDIA – International Exhibition for Flat Glass Processing and Products showcased the latest trends and innovations in flat and processed glass products and applications. Also on display were most up-to-date glass processing solutions, tools, auxiliary products and services.
The event attracted exhibitors from 16 countries (India, Germany, France, Italy, UK, Mexico, Belgium, Singapore, China, Czech Republic, Austria, Russia, Poland, Portugal, Finland and the U.S.) and 130+ exhibitors.
At the backdrop of Glasspex and Glasspro exhibitions and under the aegis of The All India Glass Manufacturers' Federation (AIGMF)*, a comprehensive 2-day Conference on What Can Glass Do for You? was staged from Feb 24-25, 2017, at Knowledge Park, Greater Noida. This conference was in continuation of a series of one-day meetings and seminars, as well as two-day conferences that have been organized by AIGMF during the last few years, particularly in connection with the Glasspex-India Exhibition in the presence and with participation of International Visitors. Here is an another attempt on various aspects of glass science and technology.
To tie it appropriately to glass related events, AIGMF released its 2017 issue of Indian Glass Directory and special issue of Kanch (quarterly glass journal of the AIGMF) which carried synopsis of select papers to be given at the conference. The Executive Committee of the AIGMF also met in parallel with the events with discussions and ideas exchanged to promote the concept of 'Green as Glass' for health and environmental reasons.
In the recent past, AIGMF has made sincere efforts to adopt two most important projects of the Indian Government i.e., Smart/Solar Cities and Swachh Bharat Abhiyaan- Clean India Campaign. the Glass Industry has attempted to showcase the qualities of glass by organizing special sessions in Delhi, Firozabad, Mumbai and Jaipur involving government and non-governmental organizations.
The AIGMF conference saw multiple stakeholder partner involvement from Federation of Safety Glass (FOSG), Confederation of Construction Products and Services (CCPS), Central Glass and Ceramic Research Institute (CSIR-CGCRI), Glazing Society of India (GSI) and Glass Worldwide (UK). The event was supported by glass and its related companies i.e. HNGIL, HNG Float, Nirmal Glasstech Industries, Dukhiram Maurya Engineering Company, La Opala RG Ltd. and Mascot Engineering.
As part of AIGMF's commitment to promote industry-academia linkages, Dr. Devendra Kumar, Head, Ceramics Division, IIT (BHU) participated as one of the keynote speakers and deputed 5 students with aim to enhance their knowledge in the respective areas and motivate them for study and contribute to the Glass Industry in the future.
The conference was broadly divided into four sessions covering all main segments of glass:
•Glass as a vital Building Material for Smart & Solar Cities
•Processed or Tailor Made Glasses
•Container (Bottle) Glass for Swachh Bharat Abhiyaan
•Specialty Glass: Tableware Opal, Crystal, Figured glass
Some of the specialist presentations given were:
•Enhancing Acoustic Performance with Appropriate Glass by Mr. Sharanjit Singh of Federation of Safety Glass (FOSG) and GSC Ltd.
•Smart Solar Glass for Solar Cities by Mr. Sandip Banerjee of Gujarat Borosil Ltd.
•Why glass use will continue to increase and what we can do to make our building safer, healthier and energy-efficient by Mr. Deepak Gahlowt and Mr. Shashi Kant of CCPS
•Building Envelope – Warm & Humid Climate by Ms. Madhavi Subramanian Patri of HNG Float Ltd.
•Bullet Proof Glass and Bullet Resistant Barriers by Mr. Prem Dutt of Gold Plus Glass Industry Ltd.
•Role of Glass in Green Building Ratings – The GRIHA Way by Mr. Akash Deep of TERI
•CPWD Scenario: Glass as Smart Building Material by Dr. K. M. Soni and Mrs. Usha Batra
•The Future of High Performance All Electric Glass Melting by Mr. Rene Meauleman of Eurotherm by Schneider Electric
•Environmental Benefits of Glass Usage by Mr. Vinay Saran of HNG Industry Ltd.
•Glass – A Healthy Packaging Material by Mr. Sanjay Tiwari and Mr. Sanjay Jain of Piramal Glass Ltd.
•Responsible Packaging by Dr. Mamta Jain of Medwiz Healthcare Communications Pvt. Ltd.
•Decorative Glasses for Homes and Offices by Mr. Achinta Chatterjee of Triveni Glass Ltd.
A variety of topics of importance not only encompassing our present objectives in the usage of glasses for various benefits in different sectors, such as building construction and packaging material, were covered. This conference has particularly drawn a huge response from a host of prominent industrialists of glass in India (as Speakers) and their active participation too.
Dr. Ranjan Sen Chief Scientist of Central Glass and Ceramic Research Institute (CGCRI) said that the current scenario and the immediate future for the Glass Industry in India is a story of unprecedented growth and diversification driven by enormous demand across multiple segments, specialty applications and global advances in novel technologies. The expanding horizon of glass in architectural uses, solar covers, mobile phones, healthcare products and several other niche areas can be best defined by calling the present era as Glass Age.
Mr. Akash Deep, Programme Manager, GRIHA Council, The Energy and Resources Institute said that with the growing resource crunch, Green buildings are becoming more important. Green building concept is prevailing in India since the beginning. However, we need to come out of our copy and paste mode. Glass is a very useful element in the building envelop if it is used optimally and thoughtfully. GRIHA rating helps in quantifying the performance of the project during the design and construction stage and in turn provides the benchmark for the operation and maintenance team to achieve optimum performance".
Mr. Harsha Kadam G., President, AIGMF said that the emergence of smart cities will enable the increased need for glass in building materials as well as glass in Containers and Utilities. Also, with the initiative of Made in India, more glass technology suppliers will be motivated to explore making equipments and spares in India.  He said that Glass is the most trusted and proven packaging for health, taste and the environment. Given the drive by the Government of India towards a cleaner India under the 'Swachh Bharat Abhiyaan', glass containers as it is 100% recyclable and can be recycled endlessly without loss in quality or purity, will add true value to the initiative as well.
As a Corporate Social Responsibility, AIGMF gifted a glass water bottle each to the registered delegate for the conference (specially manufactured by Hindustan National Glass and Industries Ltd.), which carried a logo of Swachh Bharat Abhiyaan (clean India campaign) encouraging people demand responsible and safe packaging.