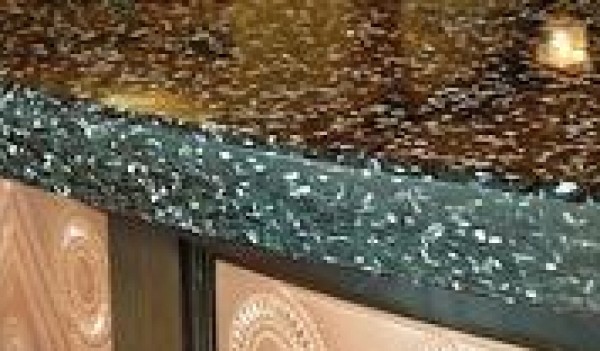 Glass Recycled kitchen countertops upcycle 750 discarded glass bottles and jars and, in this way, do something really important to protect the future of Planet Earth.
US, Texas-based Glass Recycled has created a eco-friendly remodelling checklist, which, it says, is saving the environment, 'one kitchen at a time'. In fact, the average Glass Recycled kitchen countertop 'upcycles' 750 discarded glass bottles and jars. If we consider that it takes 100 million years for them to totally decompose, a GlassSLAB kitchen remodel will not only be a beautiful and unique surface, but will give the satisfaction of knowing something has really been done to protect the future of Planet Earth.
"What makes our GlassSLAB product so appealing is the ability to custom creates any design that can be imagined," stated Tim Whaley, who invented and patented this process. "First, we have a number of glass, porcelain, mirror and mother of pearl colours, and varying sizes of each. Then we can combine it with a custom epoxy to match virtually any paint colour. The result is a kitchen countertop surface that is as durable as granite but is heat and scratch resistant, does not require a seal and does not emit any potentially toxic volatile organic compounds."
GlassSLAB can be made to any specified size and shape for kitchen countertops, bathrooms, utility rooms, gamerooms bars and more. Installation is easy and can be performed by anyone familiar with traditional granite or tile installations.