The results of the first 1 year of the "EKOMAT" Project, implemented for the first time in Türkiye with the cooperation of the BIRCAM Foundation, GCA and Park Cam, have been announced. In the project, which reached nearly 11 thousand members in a 1-year period and supported the collection of 1.6 million units of packaging waste, significant gains were achieved on behalf of the environment and the country, and TRY 1.3 million was contributed to the Turkish economy.
"Recycling holds great importance both environmentally and economically"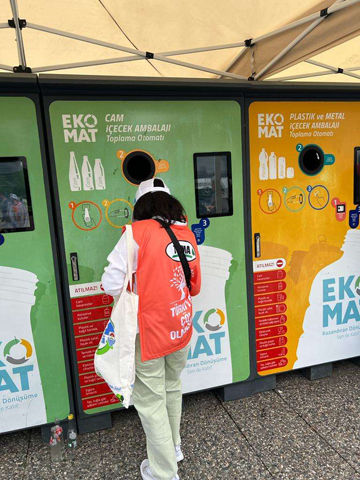 Stating that they are happy with the results of the EKOMAT Project, of which they are a business partner, so far, GCA General Manager Dr. Abdullah Gayret said, "As GCA, we follow technological developments to prevent environmental pollution, aim to recycle waste as much as possible, and dispose of non-recyclable waste without harming the environment. This is because our project is of great importance not only in terms of sustainability, but also in terms of economy.
"Therefore, we have implemented this project that aims to protect the environment in every aspect, raise public awareness about sustainability, and encourage the integration of recycling as a part of daily life. As part of our project, we placed 34 EKOMAT deposit machines at 15 different locations in Yalova to achieve 100 percent recycling of glass, plastic and metal beverage packaging. The project enables citizens to earn points worth money through a mobile application by recycling glass, metal and plastic, contributing to the economy while also supporting the reduction of the carbon footprint."
"With the EKOMAT project, we increase the amount of cullet we use in factories"
Park Cam Deputy General Manager Ergin Öz made the following evaluation, "Cullet is the food source of glass packaging factories. The more we feed cullet into furnaces, the less natural resource use, the longer the furnace life, the lower the energy cost and the lower the carbon footprint, the more responsibilities towards the environment are fulfilled. While glass packaging manufacturers in Europe use cullet at a rate of 60-70 percent, cullet usage rate in our country cannot reach even 10 percent. With the Ekomat Project, cullet of the quality used by European manufacturers comes to our factories and new bottles are produced. It is a very important development for the future."