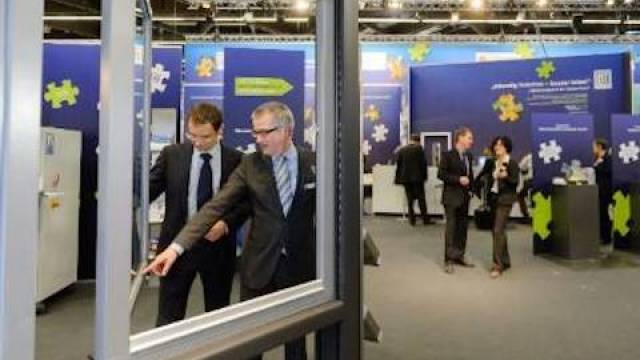 The 6th edition of Fensterbau Frontale India – International Exhibition & Conference on Window, Door and Façade Technology took place from 25th-27th February 2016 at Bombay Convention & Exhibition Centre, Mumbai.
Organized by NürnbergMesse, the exhibition has continued to grow and has attracted Industry Leaders since its inception in 2011. The event has managed to achieve a successful outcome by providing an effective learning platform, complemented with immense networking opportunities. The products & solutions on display at the event meet various criteria such as sustainability, energy efficiency and durability.
Speaking at the inauguration ceremony of the event, Mr. Ram Raheja, Director and Head of Design and Architecture at S. Raheja Realty said "There is no better way of judging the success of a project, than the quality of its construction. The quality starts right at the inception with the right selection of materials, vendors and contractors.
As a design philosophy, the facade of a building is one of the most important aspects as it sets the tone for the building. From an engineering and sustainability stand point many aspects of the facade define the energy efficiency of the building."
With the key themes of energy efficiency and sustainability taking Centre stage, the three day event explored and underlined key industry issues through a series of seminars and programs.
Despite current economic slowdown and a slight slump in the real estate sector, the recently concluded exhibition had a successful outcome by attracting more than 4000 highly specific and top class buyers to the event.
Mr. Anjan Putatunda, General Manager, Kawneer India said "This is our second consecutive successful participation at Fensterbau Frontale India. The event has been great success for us each time. It not only helps us to meet Quality Customers but also gives us a platform to showcase latest technology & gather good Business opportunities. As a show we would like to congratulate FFI for their understanding of the fenestration industry and an eye for detail, which sets them apart and as a team, we would like to thank them for their continuous support in addressing our needs and putting up a brilliant show! We look forward to being a part of FFI in Delhi in 2017."
Mr. Kushal K. Bajaj, Executive Director, GEETA ALSYSCO. PVT. LTD. said "There can be no doubt that Fensterbau Frontale India is one of the most important event for the Fenestration Industry in India. The February 2016 event – being a productive exhibition it was a great opportunity to showcase ourselves with our newly refined products and services. We also found companies with many innovative products and applications, thus massive interest was shown from all trade visitors. We had good deal of serious negotiations as well and we are very confident of a lively post-fair business thus adding to our growth in a given sector. Expectations from the FFI India team has gone higher for their upcoming exhibitions!"
Mr. Avinash Pai, Director, Avigiri Urethane and Rubber Industries said "Fensterbau Frontale India is a convalescence of the best in the Window / Facade Industry. Here you have an opportunity to associate with people who are genuinely interested in improving the Facade industry, be it in Quality, Technology or Innovation. Having participated for three years now successively, we see FFI as a platform to connect, interact and build a relationship with potential clients. I'm looking forward to next year in Delhi."
The sentiment was also further reiterated by Mr. Anuj Divanji, Managing Director, RitikaaWood "Congratulations for organizing a Professional Show that attracted serious, long term participants in the Indian Fenestration Industry. FFI sets itself apart from others as it comes across as a more mature show & gives the exhibitors time & space to engage with fellow participants as well as visitors."
The next edition of the show moves to Noida, NCR and will take place from the 23rd-25th February once again parallel to ACREX India.