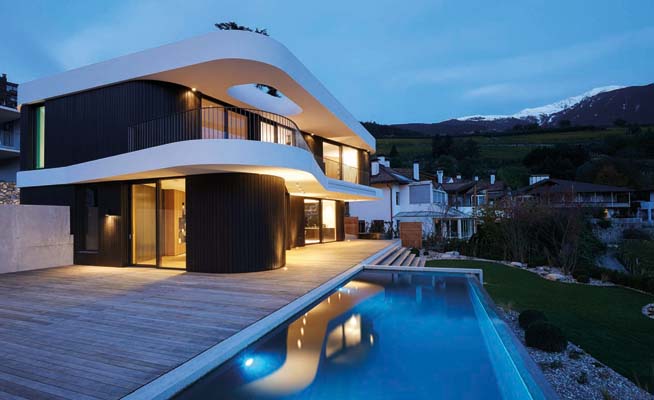 Room-height window walls with sliding doors create an uninterrupted view in a single-family house in South Tyrol. To avoid having to make any compromises on thermal protection, the energy-saving glazing units were manufactured with SWISSPACER warm edge spacer bars.
When you get the chance to build on a south-facing plot in South Tyrol's Eisacktal valley with far-reaching views over the mediaeval centre of Brixen, then large window openings for an uninterrupted vista are an absolute must. However, considerable solar gain has to be accounted for in sun-drenched South Tyrol, as this can lead to unwanted overheating of the interior spaces, especially in summer. While devices commonly used to provide protection against the sun, whether internal or external, would achieve the desired shading effect in summer, they would also block the view.

For this modern single-family house on the outskirts of Brixen, the architects therefore used an architectural trick to protect the large window areas from too much incidental sunlight in summer. The two floors of the organically shaped building are crowned by curved roof slabs that are cantilevered well beyond the edge of the building and support a large balcony as well as the flat roof. The snow-white roof slabs form an exciting contrast to the anthracite-coloured wood cladding of the main structure. An oval opening in the roof slab is large enough to let light pass through to the balcony below and is positioned so as not to put the necessary shading at risk.
The external walls of the two storeys below are almost entirely glazed. The fixed window elements and sliding doors guarantee the desired far-reaching views across the valley in every season and fit discretely into the dark wooden façade with their narrow, anthracite-coloured aluminium profiles. FIN-Slide sliding doors and FIN-Project windows were integrated into the FIN-Vista window wall system of the South Tyrolean window maker Finstral. The modular system comes with many material combinations and offers diverse design options for the integration of different opening types. The version with glass covering the outside of the frame guarantees maximum penetration of light. The plastic core ensures the very best thermal insulation values.
Maximum light penetration and the highest requirements for thermal insulation and imperviousness are also the fundamental reason why the window designers at Finstral use SWISSPACER warm edge spacer bars in their energy-saving glazing units. The small components make a big contribution to reducing thermal losses in the glazing and improving the energy-efficiency of buildings. With their extremely low lambda values, they ensure, depending on the frame material and glazing, minimal transmission of heat at the edge of the insulating glass and a low Uw value in both windows and façades.