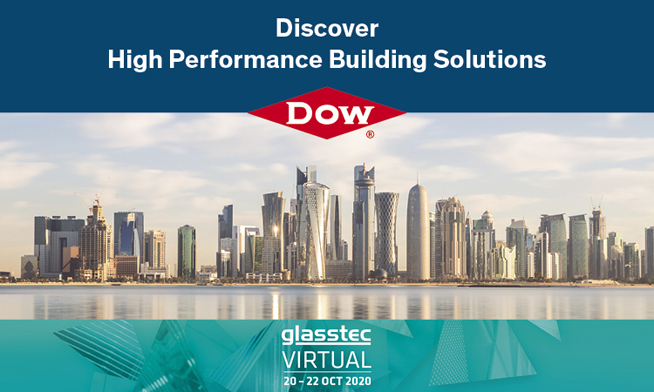 The global glass industry is set to reunite and reconnect at the glasstec VIRTUAL e-vent, October 20-22, 2020. Dow will be presenting live at the interactive web sessions, introducing technologies which help support the continuing evolution of global trends for safer, more adaptable and resilient facades.
Markus Plettau, Global Façade Segment Leader for High Performance Building, said, "The glasstec VIRTUAL web session will allow our specialists to preview Dow's latest solutions to global glass industry professionals that enhance sustainability, fire safety, productivity, designs and systems."
Taking place in the virtual exhibition space on October 20, 2020 at 15:00 CET, Dow's session titled "Speed date for innovation & expertise" will take the public on an inspirational journey linking Dow's chemistry portfolio and product innovations with global trends in High Performance Building.
Public will get a crystal clear outlook with Dow's breakthrough DOWSIL™ Crystal Clear Spacer technology, an insight into a system solution for airtightness; the DOWSIL™ Membrane Façade System, realize full vision glass balustrades with DOWSIL™ 375 Construction & Glass Embedding, certified fire safety solutions, a technological sustainability flavour and more.
There will also be an opportunity to ask questions at the end of the presentation.
Furthermore, Dow will be present in the digital showroom and ready to meet customers in the Networking Plaza, where one-to-one "matchmaking" appointments can be scheduled for ease of planning by either audio or video calls in a virtual room.
Register for this web session here. For more information and registration for the glasstec VIRTUAL e-vent.