Diamut, the tooling division of the Biesse Group, came to Vitrum 2019 to display tools capable of shaping materials into anything from finished products for large scale manufacturing to veritable works of art, all while guaranteeing an efficient manufacturing process and minimal loss of time.

Start up tool kit
Innovation meets functionality: the Start up tool kit is the perfect integration of Diamut and Intermac technology. The case includes an optional supply of Diamut tools and accessories for the installation of Intermac Master and Vertmax machines.

Cup grinding wheels
A new design and excellent edge finishing: thanks to experience and knowledge accrued over time, the range of cup grinding wheels is suitable for every type of machine available on the market, especially those to be used with straight line and double edger machines. Rapidly implemented and offering superior durability, they are the ideal solution for any company that has elevated production capacity.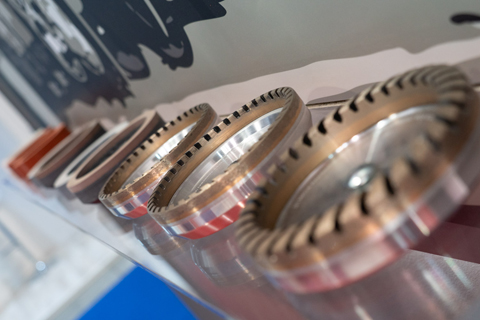 Other solutions from Diamut's vast range were on display including drills, mill cutters, discs and all peripheral grinding wheels.
Driven by the desire to always meet the needs present in the market, Diamut has also increased its investments into new production plants: specifically, over the first half of 2019, Diamut opened its first production plant in the United States, inside the Charlotte Campus in North Carolina: a site specifically dedicated to the assembly of diamond tools, using Italian technology for the machining of glass, stone and ceramics.
Surf the experience!
Vitrum was the perfect place to launch the new diamut.com online platform: a new, fully redesigned online presence, created to ensure maximum ease of navigation and allow customers to find tailored solutions to meet their needs. The new website features both restyled graphics and increased potential to increase the number of business opportunities through a flexible, modern interface that shows the product as part of a strategy tailored to each market. The website differentiates the products on offer for customers who are seeking out specific solutions for glass and stone. For each material, users can find relevant content capable of meeting their needs and simplifying searches.