California Shower Door Corporation (CSDC), with over 88 years in the industry it provides state-of-the-art product offerings and is a leading innovative manufacturer head-quartered in San Francisco, announced jointly with Diamon-Fusion International (DFI) the automation of its coating system through the acquisition of the FuseCube™ Express.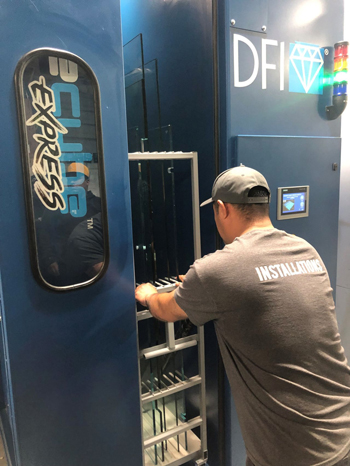 DFI's high-speed glass coating patented machine will be soon implemented at CSDC manufacturing facility thus adding increased efficiencies with the application of the Diamon-Fusion® glass treatment to its glass products. Ultra-thin and invisible, Diamon-Fusion® chemically bonds to the glass, transforming it into a high-performing, water-repellent surface protecting it from stains and corrosion.
The FuseCube™ applies the Diamon-Fusion® coating through a proprietary chemical vapour deposition process, ensuring double-sided coverage, uniform application, and a higher-quality coating. Built to last, Diamon-Fusion® is UV-resistant, requires no after-care products, and comes with a lifetime warranty on residential surfaces, and a 15-year warranty on commercial surfaces. Like a non-stick cooking pan, surfaces treated with Diamon-Fusion® become easier to clean and require less care to maintain.
The invisible barrier created in the Diamon-Fusion® process also eliminates the need for harsh chemical cleaners, promotes a more hygienic environment by reducing mould/bacteria build-up, and keeps glass looking cleaner for longer.
"This is a special partnership that brings full circle after sharing 35 years in the industry with well-aligned values of innovation and excellence, so we are thrilled to have such a highly reputable organization join our FuseCube™ network providing an automatic double-sided nano coating as a standard protective feature," said Guillermo Seta, VP of Global Business Development at DFI.
"DFI and California Shower Door both share a core philosophy in providing superior products with an equal excellence in customer service; we are constantly innovating so DFI fits perfectly to keep leading with the best glass protection that Diamon-Fusion® will now provide to all our glass products while adding greater efficiencies by automating our coating system in the process," said Tom Nolan, CEO of CSDC.