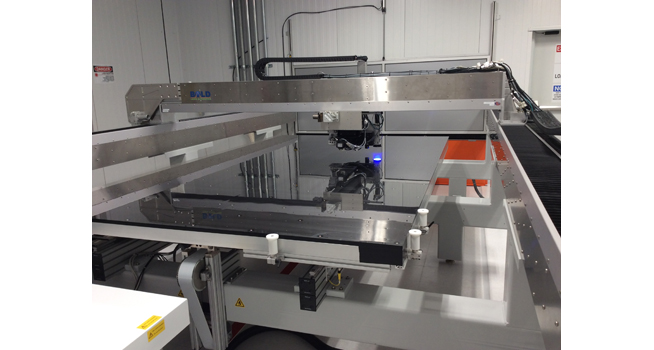 BOLD Laser Automation, Inc. of Bedford, NH USA, announced that it has begun selling the LGC3626 Laser Glass Cutting Platform, a breakthrough in throughput and performance providing the US Glass Fabrication industry access to a cost-effective laser tool.
Todd Lizotte, CEO of BOLD Laser Automation of Bedford, NH said, "The LGC3626 provides the US industry a chance to compete, by bringing laser technology within the grasp of fabricators who want to leverage laser technology for both thin and thick glass applications. By working with our laser vendors and with a focus on industry standards, we were able to offer the LGC3626 at a price point in line with industry CNC pricing."
Designated the LGC3626 Laser Glass Cutting System, the platform provides a work area of 3.6 metres by 2.6 metres, cutting tolerances of ≤0.125mm and cutting speeds in excess of 500 mm/sec with options upwards >750 mm/sec. The system can handle glass thicknesses of 0.5 mm to 8 mm, with single pass cutting of up to 4 mm.
A cost-effective solution for US domestic Glass Fabricators who are looking to add tools for new opportunities in custom architectural, automotive and domestic display glass using thin and thick glass materials.
The LGC3626 is a second generation tool based on working closely with its industry partners, glass suppliers and customer base.
For more information and product literature, call +1-855-295-6037 / +1-603-413-5601 or send a mail to info@boldlaserautomation.com.