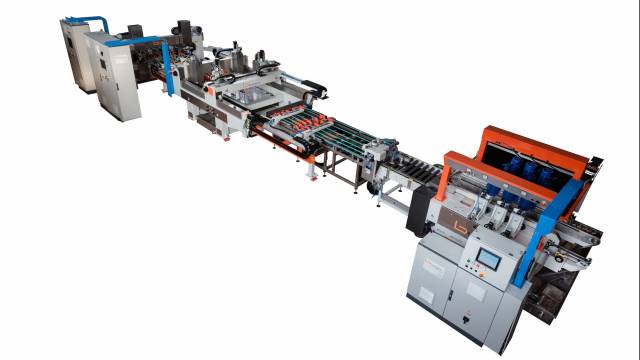 BSolution's top product of this year is an automatic glass processing line dedicated to home appliances, such as kitchen tops and refrigeration glass. This automatic line carries out loading, grinding, radii on four corners and drilling, minimizing downtime and ensuring increased productivity and shorter set-up times.
The line loads glass sheets directly into a double-edger which grinds the long sides of the glass sheets. This is followed by a turning device with belts that transfers the glass coming out from the double edger to a mechanical arm equipped with suction cups to pick-up and deposit the glass, ensuring total safety. A system of crank mechanism rotates the sheets and transfers them to a special belt conveyor, powered by an AC motor controlled by radius control software. The special centring system squares two glass sheets simultaneously from the upstream flow of the line.
Once the glass sheets are correctly aligned, the loading arm picks up the two sheets and transfers them to the radius machine, depositing them on the work surface. The glasses can be rounded while the shuttle loads another two sheets, which have already been processed. Brushless motors guarantee extremely high performance in terms of speed and accuracy, the best solution for inline handling.
The Corner Radius Machine, equipped with two independent workstations with four spindles, carries out simultaneous grinding on two sides, as well as radius and angle on squared and rectangular glass sheets up to 700×1,000mm. With a high level of automation, it is also equipped with an inlet pre-centring module and an outlet module motorized by inverter and transport belts.
At the end of the process, the sheets are picked up from an unloading arm, positioned at the exit of radius machine which transfers the glass inside the horizontal drilling machine using a vacuum system.
The last step is the delicate phase of drilling using a horizontal drill with two or more axes for rectangular and shaped glass of 1,000 x 700mm., carrying out up to two different diameter holes.
This machine is equipped with incoming conveyor belts and handling with the special centring system used on the rest of the line, while the machine is equipped with two units with four drilling heads and speeds of up to 6,000 rpm (z-axis) driven by CN controlled brushless motors. All parts in contact with water are made of corrosion resistant materials and, as for the rest of the line, a touch panel enables to control the machine and all parameters regarding drilling. Drilling programmes can also be imported directly into the machine.