10 years after launching its photovoltaic glass on the market, AGC Glass Europe decided to completely rethink its manufacturing methods, which because they were inherently labour-intensive could not meet the requirements of competitiveness. It therefore set up partnerships with companies specialising in automated production of PV modules, manufacturing SunEwat exclusively to meet its requirements. In parallel it invested in an area where added value makes all the difference, namely glass processing. In response to in-depth market surveys it set out to reinvigorate its range, focusing both on transparent solutions for vision glazing and opaque solutions for spandrels.
As a result AGC now offers SunEwat solutions which not only help to achieve ZEB (Zero Energy Building) but also pay for themselves in less than 10 years, a big novelty when it comes to power-generating facades.
In addition to classic SunEwat incorporating square-shaped PV cells (Vision Square), the transparent range now also includes Vision Stripe in which the cells form thin horizontal strips. This affords greater transparency and a more pleasing aesthetic appearance. These types of glazing can be fitted on roofs, louvers, canopies, carports … you name it. Finally, SmartSkin appears as a totally transparent window with PV cells embedded in the window frame, along with sensors connected to a building management system which optimises the use of energy.

The opaque line intended for spandrels and cladding, by contrast, makes the best possible use of the remaining vertical surface of the building to generate electricity. This line similarly comprises three products with hidden cells that let in the sun's rays. Artlite Active is a type of laminated glass in which the PV cells are covered by a pre-printed film which can carry an infinite range of patterns and colours. In Lacobel T Active the cells are covered by a uniform layer of high-quality gloss paint. Finally, Stopray Active has a solar control coating with the same optical properties (reflection and tinting) as the conventional Stopray range. This compatibility affords an effect of greater harmony over the entire facade.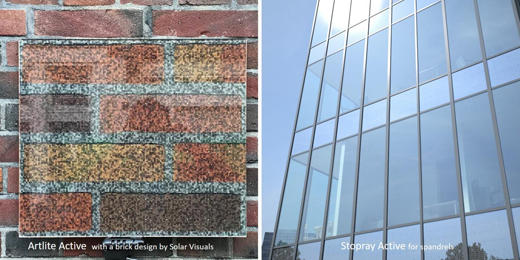 Thanks to these patented innovations AGC Glass Europe is now the only major glassmaker to offer a complete solution for energy-generating facades, both in vision glass and in spandrels.