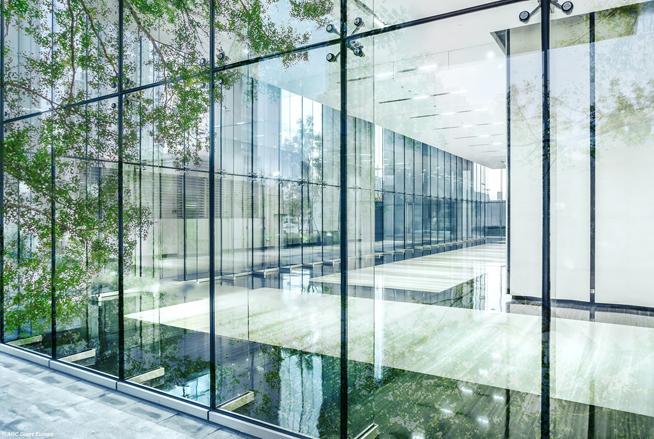 AGC Glass Europe is the first glassmaker able to offer Cradle to Cradle Certified™ Silver laminated glass. Since beginning its Cradle to Cradle journey in 2010, AGC has been fiercely committed to continuous improvement and today offers the widest range of Cradle to Cradle Certified™ Silver and Bronze certified products available on the market.
Stratobel and Stratophone: looking to the future
Stratobel laminated glass provides protection from injuries, falls, break-ins and vandalism. Stratophone laminated glass ensures acoustic insulation, an invisible form of protection supplied by a polyvinyl butyral (PVB) interlayer sandwiched between the sheets of glass.

Cradle to Cradle Certified™ certification means that the combination of glass and a PVB interlayer has been tested and approved for Cradle to Cradle Certified™ Silver certification in the five performance categories. This makes all the difference: Stratobel and Stratophone earned silver certification in three categories, including chemical composition and gold certification in two categories. And as a result, the Stratobel range is now offering forward-looking products in response to market demand.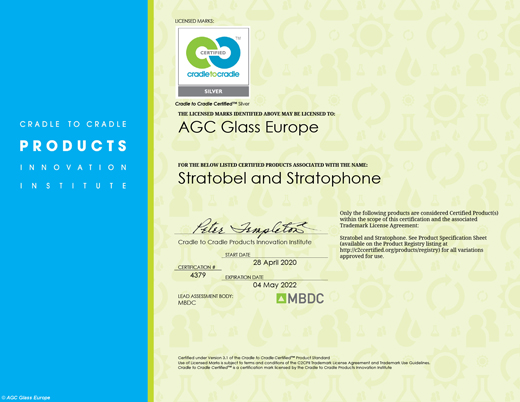 By opting for Stratobel or Stratophone, architects and specifiers can guarantee the sustainability of their projects and earn higher ratings in environmental certification programmes for buildings, such as LEED.