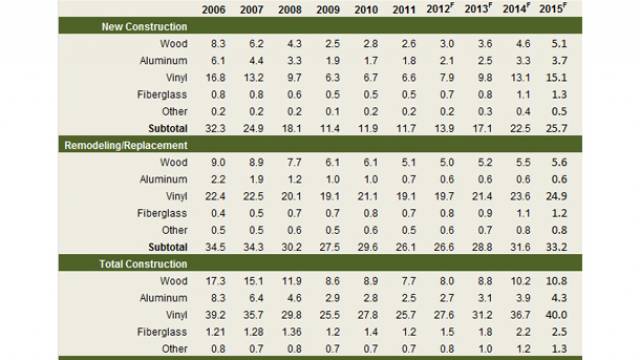 A new report from AAMA/WDMA gives an insight of the present situation, along with outlooks until 2015. According to the report, prepared by Ducker Worldwide, sales will continue to fall this year before a modest recovery begins next year, while more important gains will come in 2013 and 2014.
According to a new report from the American Architectural Manufacturers Association (AAMA) and the Window & Door Manufacturers Association (WDMA), the weak economic recovery is limiting growth prospects this year, but suggests prospects for sales in both the new construction and remodelling/replacement markets will gain some momentum in 2013 and beyond. After the loss of stimulus tax credits caused a decrease in residential window and door sales last year, the non-residential fenestration industry faces an even more difficult year ahead.
Prepared by Ducker Worldwide, the AAMA/WDMA 2011/2012 U.S. Industry Statistical Review and Forecast, predicts sales will continue to fall this year before a modest recovery begins next year, while more important gains will come in 2013 and 2014.
The study, which features historical data for 2006 through 2011 and forecasts for 2012 through 2015, is based on projections of construction activity and appropriate usage factors developed by Ducker Worldwide. The database for the study's information has been compiled from a number of sources, including the Census Bureau, and association member and non-member companies.
According to the report, the housing market actually started its comeback in 2011 due to a large increase in multi-family construction, with multi-family starts up more than 50% last year, and another 22% increase expected in 2012. Single-family starts are forecast to see a 15% increase this year.
The overall housing market is expected to undergo strong recovery, with double-digit growth predicted through 2015. The AAMA/WDMA study predicts total housing starts will more than double the 604,000-unit low of 2009, reaching 1.2 million by 2014.
The AAMA/WDMA report notes that the remodelling and replacement market has undergone five consecutive years of decline, and that a slight turnaround will begin this year, with residential improvement expenditures forecast to increase about 2% from USD 112.8 billion in 2011 to USD 115.1 billion in 2012. Next year is also expected to be rather slow, with residential improvement expenditures increasing a further 2%, while double-digit gains are expected for 2014 and 2015. By 2015, the market is expected to reach pre-recession levels, with residential improvement expenditures forecast to reach USD 151.8 billion.
Demand for windows was down 8.9% to 37.9 million units in 2011, after two years of recovery, attributed, according to the report, to the end of federal tax incentives for energy efficient products in 2009 and 2010. With a decrease in new construction sales of about 2%, a 11.2% decline is reported in replacement/remodelling window sales, after a new low for demand in this segment last year.
Although recovering, window sales for new residential construction are expected to increase 18.8% this year, with larger gains expected in the first part of next year. In fact, sales in the new construction market in 2015 are expected to more than double 2011 figures.
Percentage gains are not expected to be so big in remodelling and replacement, but demand is expected to grow. According to the report, sales are expected to rebounding slightly this year, with almost 9% growth expected for 2013 and 2014.
The study also highlights the increase in the use of vinyl, which now has a market share of 68% overall, with vinyl window sales expected to reach 40 million again, approaching the previous high of 40.6 million units in 2005. Aluminium windows have been losing share steadily in the residential market, but actually saw an increase in demand in the new construction market in 2011. The decline, however, continued in remodelling and repair.
According to the report, the forecast is for sales gains for all types of windows in the future. Fiberglass and other windows still have a relatively small portion of the market, but are expected to see healthy increases on a percentage basis.
Skylights saw a 2.4% increase in sales last year, with growth generated by continued strength in the remodelling and replacement market, which now accounts for about 80% of skylight sales. Future growth is also projected, with increases coming both from remodelling/replacement and new housing.
Entry doors, patio and interior doors saw sales declining slightly in 2011, but residential entry door volumes are expected to increase about 5% in 2012. Steel remains the leading material, but fiberglass continues to gain share in the entry door market.
Patio door shipments lost more than 9% in 2011, with most of the decline coming from remodelling and replacement. Double-digit growth, however, is predicted for 2013 and 2014, shared by all material types, with fiberglass having the strongest growth. Sales of fiberglass patio doors in 2015 are expected to almost double last year's total.
Non-residential window sales were not affected by the end of energy efficient tax credits in 2011, and increased about 4% in 2011, mainly from the remodelling and replacement side of the non-residential market.
Non-residential projections are based on contract awards, which reflect activity related to new non-residential construction and major additions to existing structures, with fenestration demand usually one year or more behind contract awards. Already at weak levels due to the recession, contract award totals decreased about 1% in 2011. According to the report, this trend will reverse, with contract awards seeing a slight increase this year, and bigger gains through 2015.
This will result in the non-residential fenestration market not seeing big increases until 2014. After bottoming out in 2010 at about 350 million square feet of vision area, non-residential window sales are forecast to approach 600 million square feet by 2015, with non-residential entry and interior door sales expected to follow a similar pattern.