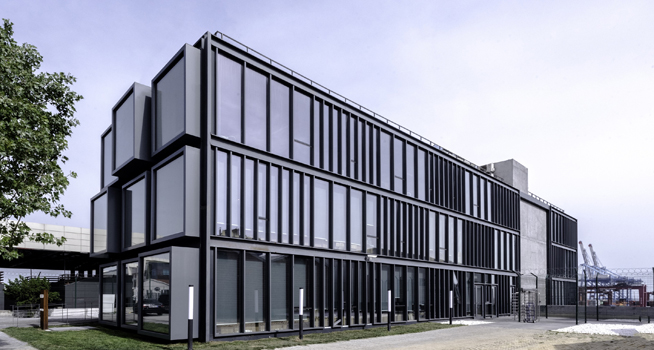 The project designed by KG Architecture is one of the reference projects brought to life with the innovative products of Şişecam Flat Glass, pioneering many firsts in the field of flat glass, and leading development of the flat glass industry in Turkey and the region.
The high light transmittance, heat insulation and solar control requested in the project are provided by a single coating of "Şişecam Temperable Solar Control Low-E Glass Neutral 62/44."
The scope is the design of a group of buildings for the Kumport Port Services with a total of 6.000 square metres while rethinking the port and facilities. Headquarters, maintenance facilities, workshops and storage areas determine the main components of the design.
The indoor space requirement of the administration building and the height limitation of 10.5 meters determined by local regulations make it necessary to develop the design in a horizontal way.
The atrium, waiting and interior space, is designed at a height of 10.5 m and ensures that the building receives natural light not only from the front and rear façades, but also from above. Thus, this spacious, bright and open space is separated from the working areas and contributes to the indoor working areas with its light and visual quality.