Al-Andalus Glass Co. has just installed a fully automated high-performance Turomas line for the storage, loading and cutting of glass, prepared to work simultaneously with 3, 6 and 7 meter glass sheets.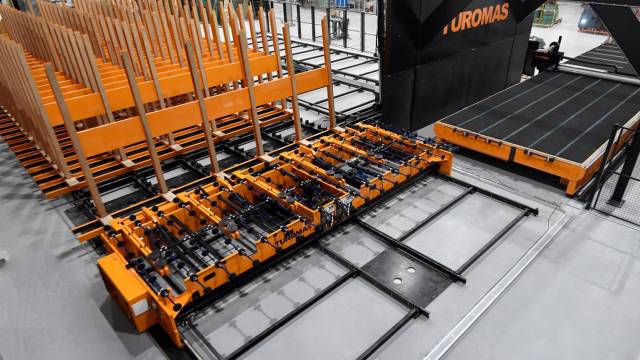 Turomas has supplied an SR-07 intelligent storage system and a RUBI 516C cutting line to Al-Andalus Glass
Al-Andalus Glass has implemented an SR-07 intelligent storage system and a RUBI 516C cutting line, both manufactured by the Spanish company Turomas.
The SR-07 storage is characterized by having been designed to hold 3, 6 or 7 meter glass sheets, including low-emissivity glass. This feature offers great versatility when it comes to managing the glass stock and, especially, optimizing production according to the real needs of each project.
Another of the main features of the SR-07 is that it is the glass rack itself that is located directly in front of the loading area, which significantly increases the productivity ratio by minimising glass transport times within the warehouse. When changing glass types, the storage has been designed to move the racks with the necessary agility to avoid interrupting the cutting line workflow.
The SR-07 installed in the Al-Andalus company is also ready to safely recharge glass in the warehouse without interrupting production, which significantly optimizes the company's resources in all its work shifts, regardless of the time when the glass packs arrive from the supplier.
The cutting line comprises the RUBI 516C cutting table and the MT-600B break-out table. It offers automatic loading and evacuation by means of belts and allows a 6 or 7-meter sheet or two 3-meter sheets to be placed on top simultaneously.
Thanks to the linear motor technology that moves its different axes, the RUBI 516C cutting table can move up to 310 linear meters per minute with...
expand